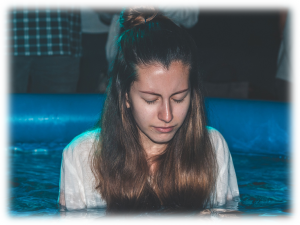 Before Continuing…
For what purpose were you baptized? What did your church or minister teach you concerning the purpose of baptism? Were you told that it was "an outward sign of an inward grace"? Were you saved before or after your baptism? Please do me a favor. Before you continue reading this article, write down your answers to the questions above on a piece of paper.
Let the Bible Answer
No doubt we would receive different responses to the question of the purpose of baptism depending on which church or preacher we asked. But let's all agree to seek the Bible's answer to our question. Let's speak as the oracles of God (1 Peter 4:11), and then be content not to think beyond what is written (1 Corinthians 4:6). Let's search the Scriptures together (Acts 17:11) to find the truth concerning the purpose of baptism.
So, according to the New Testament, what is its purpose?
Seven Points
(1) Baptism brings Salvation – Jesus taught: "Whoever believes and is baptized will be saved, but whoever does not believe will be condemned" (Mark 16:16).
(2) Baptism puts us into Christ – "For as many of you as were baptized into Christ have put on Christ" (Galatians 3:27).
(3) In baptism we come in contact with Jesus' cleansing blood – "Do you not know that all of us who have been baptized into Christ Jesus were baptized into his death?" (Romans 6:3)
(4) Baptism is for the forgiveness of sins – Peter said to a great multitude, "Repent and be baptized every one of you in the name of Jesus Christ for the forgiveness of your sins, and you will receive the gift of the Holy Spirit" (Acts 2:38).
(5) Baptism is an appeal to God for a good conscience – "Baptism, which corresponds to this, now saves you, not as a removal of dirt from the body but as an appeal to God for a good conscience, through the resurrection of Jesus Christ" (1 Peter 3:21).
(6) Baptism brings newness of life – "We were buried therefore with him by baptism into death, in order that, just as Christ was raised from the dead by the glory of the Father, we too might walk in newness of life" (Romans 6:4).
(7) Baptism places us into the one body, the Lord's church – "For in one Spirit we were all baptized into one body" (1 Corinthians 12:13).
One Baptism, One Purpose
Dear friend, for what purpose were you baptized? The Bible reveals to us that there is only "one baptism" (Ephesians 4:5), and its one purpose is "for the forgiveness of … sins" (Acts 2:38).
So how does the baptism that you received compare with the baptism of the New Testament? "And now why are you waiting? Arise and be baptized, and wash away your sins, calling on the name of the Lord" (Acts 22:16, NKJV).
–Jesse Flowers