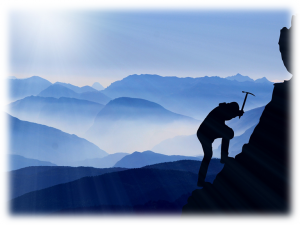 Sometimes we say, "When the going gets tough, the tough get going." This means that when things in life get difficult, those who have a strong character become more determined. They don't use trials as an excuse to give up but rather fight with even more enthusiasm. They don't sit idly with their arms crossed or get desperate when circumstances turn ugly. They take advantage of adversity as an opportunity to redouble their efforts and emerge victoriously from the battle!
The Example of First-Century Christians
This saying adequately describes the mindset of the early Christians. Shortly after the establishment of the church on the day of Pentecost, a great persecution arose against the Jerusalem congregation "and they were all scattered throughout the regions of Judea and Samaria, except the apostles" (Acts 8:1). The church that had thousands of members (Acts 2:41; 4:4) was suddenly reduced to a handful of people. Practically all the brethren, except the apostles, fled to other places to avoid persecution.
Dealing With Hardship Today
What would we do in such circumstances? Though there would be nothing wrong with fleeing to another place to save our lives (Acts 9:22-25; 14:5-7), what would we do once we arrived at a safe haven? Would keep our mouths shut to avoid more problems? Would we throw in the towel thinking that it would no longer be possible to continue being faithful Christians without the apostles by our side? Would we come to the conclusion that we could no longer preach the word of God due to our small number? Would we stop evangelizing due to differences in language, culture, and race? Would we isolate ourselves from society like monks and hermits?
Despite all these challenges, Acts 8:4 indicates that the first-century Christians, the same ones who had been scattered by persecution, "went about preaching the word." They didn't give up! They continued to sow the good seed of the word of God (Luke 8:11) in the hearts of those around them.
We all carry a lighter cross. The persecution that we know today cannot be compared to what those faithful disciples of Jesus suffered. How much more, then, should we "proclaim the excellencies of him who called [us] out of darkness into his marvelous light" (1 Peter 2:9)!
–Jerry Falk