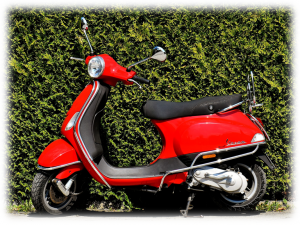 Injured in the Jungle
Michael Lythcott and his friend were riding a scooter back to their motel after a night out on the island of Bali in Indonesia, when they overshot a curve and were thrown 150 feet into a jungle ravine. Their near-fatal injuries left them immobilized on a mountainside. Furthermore, no one knew where they were or what had happened.
It was all Michael could do to pull his cellphone out of his pocket and alert a friend in the U.S., via a Facebook app, of his condition. His friend soon tapped into his "vast circle of friends from around the globe. She posted a screenshot of the pin drop [of his location] to the Facebook comment thread and watched" it explode as one friend after another joined the conversation. Each was desperate to help, but the offer of one friend was especially poignant: "Dude, I will fly out tonight and come get you if you need."
[Through this network of friends who contacted the appropriate parties on Bali, Michael and his friend were soon rescued, taken to a hospital, and recovered (Reader's Digest, July/August 2019, pp. 76ff).]
A True Friend
Now, that is the spirit of a true friend — someone who will drop anything he is doing at a moment's notice and fly half-way around the world to do whatever is needed to help, no questions asked!
The Bible says, "A friend loves at all times, and a brother is born for adversity" (Proverbs 17:17), and "…there is a friend who sticks closer than a brother" (Proverbs 18:24).
There's No Friend Like Jesus
Jesus proved Himself to be a "friend of sinners" (Matthew 11:19). "But God demonstrates His own love toward us, in that while we were yet sinners, Christ died for us" (Romans 5:8). Jesus gave up everything He had and came from a world away to die on a cross for those who, though hostile to Him in their sins, He wanted to have as His friends. "…Though He was rich, yet for your sake He became poor, so that you through His poverty might become rich" (2 Corinthians 8:9).
Are You a Friend to Jesus?
Christians sing hymns with words like, "I'll be a friend to Jesus," or "I've found a friend, oh, such a friend…" Yet, no one can be a friend to Jesus unless he reciprocates with the kind of unstinting, unreserved love Jesus showed to him. The one who would be a friend to Jesus, and who would have Jesus be a friend to Him, must be willing to drop all His worldly cares, concerns, and commitments and come at a moment's notice to give to Jesus whatever help He needs.
"You are My friends if you do what I command you" (John 15:14).
–Gary P. Eubanks