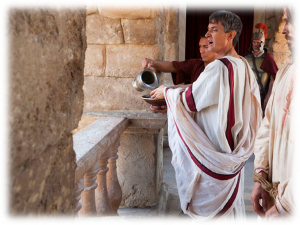 This question was posed by Pontius Pilate, the fifth governor of the Roman province of Judea, serving under Emperor Tiberius from 26/27 to 36/37 AD. Each of us must also answer Pilate's question.
Though we can't crucify Jesus in a literal sense, like Pilate, we can do it figuratively. This was the case of the Hebrew Christians who, in order to avoid persecution, were returning to Judaism. In turning back, they were "crucifying once again the Son of God to their own harm and holding him up to contempt" (Hebrews 6:6). In other words, by going back to the Law of Moses they were saying that the sacrifice of Christ wasn't enough to save them, thus identifying with those who crucified Jesus. By returning to Judaism, they were exposing him to more insults. Also, by forsaking their assembling together, they were trampling Jesus' sacrifice (Hebrews 10:23-29).
Similarly, when Christians stop meeting with the local church and return to the world, it is as if they are telling everyone that the sacrifice of Christ is no good, thus exposing Him to more insults.
The Jews Responded, "Crucify Him" (Matthew 27:22-26)
Jesus had committed no sin (Matthew 27:19,23; John 19:4; Hebrews 4:15; 1 Peter 1:18-19; 2:22). Despite this, the Jews hated him because of envy, and because he condemned their iniquity. This why they wanted the Romans to put him to death.
Judas Might Have Said, "Sell Him" (Matthew 26:20-25)
Truth be told, Judas didn't sell Christ. He sold himself. How many people — even brethren in Christ — sell their souls to the enemy because of the love of money (cf. 1 Timothy 6:9-10)?
Peter Might Have Said, "Deny Him Three Times" (Luke 22:54-62)
Peter had said, "Though they all fall away because of you, I will never fall away" (Matthew 26:33). He needed to hear Paul's advice: "Therefore let anyone who thinks that he stands take heed lest he fall" (1 Corinthians 10:12).
Peter denied him because he followed "at a distance" (Luke 22:54). It's necessary to walk close to Christ, in Bible study, in prayer, in attending services, in working in his vineyard, so as not to deny him.
To avoid falling away, it's necessary to grow (2 Peter 1:5-10; 3:18).
All of His Disciples Might Have Said, "Abandon Him"
Matthew 26:56 says that "all the disciples left him and fled".
In Matthew 10:28, Jesus had told them, "Do not fear those who kill the body but cannot kill the soul…" It seems that they forgot about this in the Garden of Gethsemane.
After telling the crowd that they had to follow him not because of food but because of his teachings, "many of his disciples turned back and no longer walked with him" (John 6:66-68). Jesus asks us, as He asked His apostles, "Do you want to go away as well?" We must all confidently say with Peter, "Lord, to whom shall we go? You have words of eternal life."
Some Jews on the Day of Pentecost Would Have Said, "Obey Him"
In Acts 2:37 they asked, "What shall we do?" Peter answered, "Repent and be baptized every one of you in the name of Jesus Christ for the forgiveness of your sins…" (Acts 2:38). That day, about three thousand souls did exactly this.
What about you?
–Jerry Falk (based on an outline by Wayne Partain)