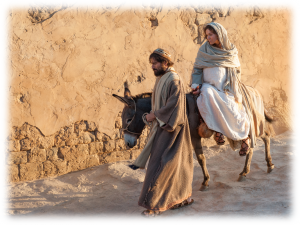 It has been said that the message of the Bible can be summarized with just one word: JESUS! The message of the Old Testament is "Someone is coming" and the New Testament tells us that "he has come" and "will come again." Though the Bible focuses on Jesus, God worked through other Bible characters to accomplish his scheme of redemption. One such person was Mary, the mother of Jesus. There are several things that we can learn from her example, a few of which we will mention here.
She Was Submissive to the Lord (Luke 1:38)
Mary regarded herself as "the bondslave of the Lord" (NASB). Her acceptance of God's plan to make her the mother of Jesus is demonstrated by the humble response, "May it be done to me according to your word." Undoubtedly, God's plan to save us from our sins would put this virgin in a difficult predicament. It wouldn't be easy for her to reveal to her husband that she was already pregnant, but Mary put aside her desires and ambitions so that God might carry out his will through her.
Mary's example shows us that we should always be ready to accept and obey God's will, even when others may doubt our faithfulness. Like the mother of Jesus, we should receive the implanted word "in humility" (James 1:21).
She Admitted Her Need of a Savior (Luke 1:47)
If I confess that God is my Savior, I imply that I need salvation. If Mary had never sinned from conception to death, as some affirm, in what sense was God her Savior? If she had been absolutely sinless, she would not have had any need for someone to save her in this sense.
Ted Turner, the founder of CNN, has been quoted as saying, "I don't want anybody to die for me. I've had a few drinks and a few girl friends. If that's going to put me in hell, then so be it." Unlike Mary, Mr. Turner didn't recognize his need for a Savior.
She Meditated on the Word of God (Luke 2:19,51)
Mary didn't quickly reject what the shepherds had told her, that is, that an angel had appeared to them telling them that the Christ had been born in Bethlehem and that they would find him "wrapped in cloths and lying in a manger" (Luke 2:8-12, NASB). She seriously pondered the meaning of their words and gave serious thought to what Jesus told her when he said, "Did you not know that I had to be in My Father's house?" (Luke 2:49) Mary continued to meditate on these things, even though she didn't understand them.
A lot of sermons remind us of our need to read and study the word, but how often do we THINK about it? (Psalms 119:97). Many years ago, a fellow preacher told me that some of the greatest preachers in the United States were farmers who would read the Bible early in the morning and think about it the rest of the day as they plowed the earth.
Great Blessings Are Sometimes Accompanied by Great Suffering (Luke 2:35)
Mary would suffer for her son as he agonized on the cross. Perhaps, for this reason Simeon told her when Jesus was just a baby that "a sword will pierce even your own soul." Mary was an eyewitness of the brutal treatment suffered by her son (John 19:26-27).
Likewise, being a faithful servant of God does not mean that we're going to avoid suffering (2 Timothy 3:12). Sometimes life on this earth means being exposed to heart-rending sadness.
She Needed Prayer (Acts 1:14)
In Luke's second letter to Theophilus, the inspired writer tells us that Mary was among the disciples of Christ who were "continually devoting themselves to prayer." Like the rest, Mary also desperately needed to direct her supplications and thanksgiving to God through Jesus Christ.
–Jerry Falk