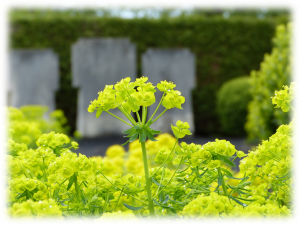 When We (Literally) Feel Like Dying
"I have to die to get better." Have you ever felt this way? You feel so sick that you wish you would die so that you can feel better? We say this as sort of a joke (or maybe not). Of course, at the time that we feel so bad, we wish for about anything to happen that would improve our condition. Being sick is no fun and we will do whatever it takes to feel better. Of course, as Christians, doing "whatever it takes" still needs to be within what is moral and right. The world doesn't always follow that path.
Dying in Another Sense
Spiritually, the concept of dying in order to get better is a truth to which we must conform. In order to get better, in order to be free from sin, in order to experience forgiveness and true freedom, we must die. This is an important idea in Scripture. For example, Paul put it this way:
"If then you have been raised with Christ, seek the things that are above, where Christ is, seated at the right hand of God. Set your minds on things that are above, not on things that are on earth. For you have died, and your life is hidden with Christ in God. When Christ who is your life appears, then you also will appear with him in glory" (Colossians 3:1-4).
Paul follows up by saying, "Put to death therefore what is earthly in you…," then speaks of some of the sins that characterize the one who has not yet died to self. We put to death what is worldly, put off the sins of the flesh, and put on Christ and the new self (Colossians 3:5-15). To be new, the old must go. We must die to live. Paul also wrote to the Romans:
"What shall we say then? Are we to continue in sin that grace may abound? By no means! How can we who died to sin still live in it? Do you not know that all of us who have been baptized into Christ Jesus were baptized into his death? We were buried therefore with him by baptism into death, in order that, just as Christ was raised from the dead by the glory of the Father, we too might walk in newness of life" (Romans 6:1-4)
Do you consider yourself "dead to sin and alive to God in Christ Jesus" (Romans 6:11)?
–Doy Moyer (from https://searchingdaily.com/)