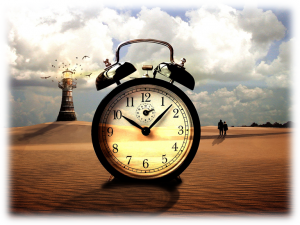 It bothers me sometimes to see the rich waste their wealth on frivolous and selfish pursuits when their money could be directed to far better ends, like supporting the spread of the gospel or helping the poor.
However, there is a far more precious resource that the rich and poor have in equal quantity, and that, once spent, can't be bought back for any price: time. Unfortunately, most people seem to have put little thought into how best to use their time.
As a middle school teacher, I have plenty of occasions to shake my head at kids' preference for activities that have absolutely no value. These infamous time wasters have moved beyond just investing hour after hour playing video games; now, they are quite content opening YouTube and watching other people play video games!
Walk as Wise
With age would come wisdom, we might suppose. But society presents us with a vision of life that exalts selfish leisure through to the end. The dream of many is early retirement to pass the remainder of their days sipping wine and collecting shells on the beach.
Scripture urges, "Look carefully then how you walk, not as unwise but as wise, making the best use of the time, because the days are evil. Therefore do not be foolish, but understand what the will of the Lord is" (Ephesians‬ ‭5:15-17‬).
What Is Worth Our Time?
The Lord, then, counsels us to treat time as a valuable commodity, given its limited nature. Pause to consider: what is worthy of our attention?
In a thought-provoking poem, C.T. Studd repeatedly reminds us, "Only one life, 'twill soon be past, Only what's done for Christ will last." How true! Works that endure to eternity should receive the highest priority in our agendas. "And the world is passing away along with its desires, but whoever does the will of God abides forever" (1 John‬ ‭2:16-17‬).
Pursue the Lord's will and refuse the distractions. When the righteous man Nehemiah sought to serve God by spearheading an effort to rebuild the walls of Jerusalem, it was an enemy that attempted to derail his attention. Nehemiah answered resolutely, "I am doing a great work and I cannot come down. Why should the work stop while I leave it and come down to you?" (Nehemiah 6:3).
The excuse of many for not seeking the Lord is, "I don't have time." Correct thinkers know that seeking the Lord is precisely what time is for. To have our scheduling priorities so backwards dishonors our Creator and betrays a grave misunderstanding of our own nature.
–Brigham Eubanks