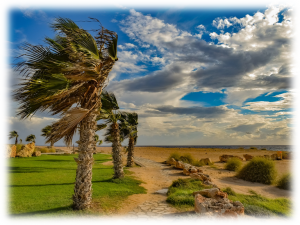 On March 13, 2010, the states of New Jersey, New York, and Connecticut were hit by a heavy rainstorm, which toppled many trees in its path and left thousands of homes without electricity for several days. News reports stated that at John F. Kennedy Airport in New York City there were wind gusts of up to 78 miles (125 km.) per hour. It was the same as being in a "category 1" hurricane!
Two days later, we had to take our son, Jonathan, to the orthodontist. We were amazed to see the destruction that the storm had left in some towns in New Jersey. On one occasion, in the town of Kingston, we had to turn around and go to the orthodontist another way due to the light poles that were lying across the asphalt. Some poles hung precariously over our heads as we traveled on the road.
It was during this trip that my wife, Maria, said something that made me reflect. Seeing how the surviving trees had lost many dead branches and even pieces of their bark, she said, "The wind is good for pruning the trees." Before I could answer, she added, "That's what trials are like in the Christian's life."
Sometimes God allows his children to be shaken by the strong winds of illness, financial problems, and even by problems in the church, not to destroy them but to eliminate those dead and useless vestiges of the "old self" (Ephesians 4:22). By being "pruned" of these things, the Christian will have new opportunities to "grow green again" and produce "more fruit" in the Lord's service (John 15:2).
How does one stand in the midst of such storms? In the words of the apostle John, "everyone who has been born of God overcomes the world. And this is the victory that has overcome the world–our faith" (1 John 5:4). What is the key to emerge victoriously from trials' hurricane-force winds? Our faith!
Let's not forget that God has a purpose in allowing us to go through trials. With this in mind, James tells us, "Count it all joy, my brothers, when you meet trials of various kinds, for you know that the testing of your faith produces steadfastness. And let steadfastness have its full effect, that you may be perfect and complete, lacking in nothing" (James 1:2-4).
Keep trusting in God and firmly resist the doubts with which Satan wants to tear you down. "When [you have] stood the test [you] will receive the crown of life, which God has promised to those who love him" (James 1:12).
–Jerry Falk