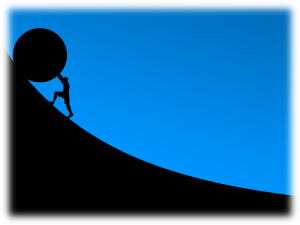 After having spent a little more than half a century on this earth, I've come to one very obvious conclusion: Life is tough! Even those who enjoy financial stability are invariably faced with hardship in other areas.
Young people are not able to fully grasp this fact. Their parents take care of all their physical and material needs during the formative years. Kids are full of energy and good health. They learn quickly and have a memory like an elephant. They can eat and drink most anything without worrying if it's going to rub them the wrong way. They sleep soundly for eight or more hours and when they wake up in the morning they're essentially pain free.
As their youthfulness fades, everything changes. Now they must provide for themselves and their own family. They begin to tire more easily. They start to complain of backaches and other physical ailments. Things that they used to eat without restriction now give them indigestion, acid reflux, headaches, you name it! Accidentally pulling a muscle can occur with something as simple as picking up a pencil. They no longer sleep like a log and getting out of bed in the morning grows more difficult by the year.
Have you ever asked yourself the question, "How will I ever be able to face the challenges that lie ahead?" Let's be honest. Life is full of them! In this imperfect world, we have financial challenges, marital challenges, family challenges, health challenges, challenges in the church, challenges at the workplace, challenges at school, and the list goes on!
Job could identify with this when he said, "Man, who is born of woman, is short-lived and full of turmoil" (Job 14:1, NASB). Other versions say that this life is "full of trouble" (NKJV, NIV). One bible commentary said that "Job's utterances seem to oscillate between hope and despair" (Francis I. Andersen, Tyndale Commentaries). Haven't you ever felt this way?
Every time I wonder how to face challenges in my life, I always come back to the same answer: faith. This is exactly why we sing that "faith is the victory!"
In his first epistle, the apostle John writes about this when he says, "For whatever is born of God overcomes the world; and this is the victory that has overcome the world—our faith. Who is the one who overcomes the world, but he who believes that Jesus is the Son of God?" (1 John 5:4-5, NASB)
Faith is the key to facing life's most daunting challenges. It's the unshakeable resolve to trust in God and his word in the midst of whatever we're going through. It's the confidence that he'll pull us through any storm as long as we continue to hold to his unchanging hand.
–Jerry Falk