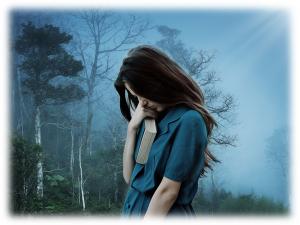 I know a brother who hasn't met regularly with the church almost since he obeyed the gospel more than twenty-five years ago. On several occasions we knew nothing about him for weeks and even months. To make matters worse, our efforts to encourage him to be more faithful did not produce any noticeable results.
One day he wanted to talk to me about what he thought was one of the causes of his unfaithfulness. Perhaps I thought that he finally realized what he had to change in his life. To my surprise, however, the first thing he told me was that "the church doesn't love me" or something to this effect.
On another occasion, a couple from the same congregation, who were not attending faithfully, said almost immediately after worship something like, "In this church, we don't receive." They were not referring to money. They were simply stating that the brethren were not meeting their needs.
Similarly, I recently wrote a sister who criticized the preacher of the church where she used to attend. She alleged that "he's only in it for the money" and that the members are not given anything.
In all three cases, these brethren were not meeting faithfully but, at the same time, they thought that the local church was not meeting their needs. Their mindset seemed to be the same: the preacher and other members need to show us how much they love us. However, they demanded from others what they themselves were unwilling to give.
John F. Kennedy, said on the day of his presidential inauguration, "Ask not what your country can do for you; ask what you can do for your country." I've modified this phrase a little and over the years have said to brethren, "Ask not what the CHURCH can do for you; ask what you can do for the CHURCH."
I don't doubt that members of the local church have needs. However, the main purpose of meetings is not for others to "give us something." The most important goal when we gather together is to know God and his will (Jeremiah 9:23-24; John 7:17).
Every Christian must ask himself:
What do I do for the brethren? (1 John 3:16)
Do I meet faithfully with the church to stir up my brethren "to love and good works"? (Hebrews 10:24-25)
Am I a good example for my brethren "in speech, conduct, love, faith and purity"? (1 Timothy 4:12, NASB)
Am I a good example for those in the world? (Matthew 5:13-16)
Do I read the word of God daily and do I try to put it into practice in my life? (Acts 17:11, 2 Timothy 2:15, Romans 2:21-23)
Am I different from those of the world with respect to my thoughts, speech, and actions? (Colossians 3:1-2, 1 Thessalonians 4:3,7; Colossians 4:6)
Do I humbly serve God and others? (Mark 10:45, John 13:13-15)
Do I remember often the words of Jesus: "It is more blessed to give than to receive"? (Acts 20:35)
We end with the excellent example of the Christians in Macedonia. These brethren were very poor! However, they had a strong desire to serve others in greater need than themselves. Concerning these humble and selfless servants, Paul says, "In a severe test of affliction, their abundance of joy and their extreme poverty have overflowed in a wealth of generosity on their part. For they gave according to their means, as I can testify, and beyond their means, of their own accord, begging us earnestly for the favor of taking part in the relief of the saints– and this, not as we expected, but they gave themselves first to the Lord and then by the will of God to us" (2 Corinthians 8:2-5).
In the midst of their "extreme poverty," the Macedonians found a way to serve their brethren and regard them as more important than themselves (Philippians 2:3). The key to their success is that "they gave themselves first to the Lord." These poor and humble brethren didn't think: "What can the church do for me?" but rather "What can I do for the church"?
May God help us to follow their example!
–Jerry Falk