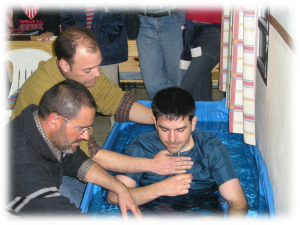 According to many, baptism is not for the forgiveness of sins but rather for a "public testimony" that one is already saved. This is why many Protestants speak of baptism as "an outward sign of an inward grace." The grace of God has already saved them by faith alone (or so they say) and in baptism they publicly proclaim that they are already saved. This is exactly why immediately prior to being baptized some are asked to make the confession, "I believe that God for Christ's sake has forgiven my sins." (Notice the past tense: "has forgiven.")
Does it make any difference whether or not one is baptized "for the forgiveness of sins" (Acts 2:38) or for a "public testimony"? Well, let's just say that it's the difference between being baptized "in the name of Jesus Christ" (that is, in obedience to His authority, Acts 2:38) or submitting to a man-made baptism whose purpose is not found in the Scriptures.
About two years before I met my wife, she applied for work at the "Pabellón de la Promesa" (Pavilion of Promise) at the 1992 World's Exposition in Seville, Spain. The Pavilion of Promise was the creation of different Protestant groups in Spain that wished to tell visitors about the Bible story. As mentioned previously, Maria was a member of the Christian and Missionary Alliance.
Before working at the Exposition, they asked her to fill out a questionnaire. One of the questions was, "What is the purpose of baptism?" Maria studied the Scriptures on her own and guess what she told them? Her answer was that it's "for the forgiveness of sins," just as Acts 2:38 teaches.
This Bible fact is not hard to understand. All that is required is a good and honest heart and a desire to be led by the Scriptures, rather than by man-made tradition.
When I came in contact with Maria about two years later and told her that the scriptural purpose of the baptism commanded by Jesus is "not for a public testimony but for forgiveness of sins" she immediately responded, "When can I be baptized?" All those years, she had been taught that salvation is by "faith alone" and that, while one should be baptized, it really wasn't necessary to be saved.
Later in the book of Acts, the apostle Paul's question to the 12 disciples that he found in Ephesus indicates that the purpose for which one is baptized is important. He asked them, "Into what then were you baptized?" (Acts 19:3). Likewise, we need to do everything we can to help people understand the biblical purpose of the baptism commanded by Christ.
We must remember that baptism "saves … through the resurrection of Jesus Christ" (1 Peter 3:21). There is no miraculous power in the water itself, but rather the BLOOD OF CHRIST washes the sinner when he/she humbly submits to the conditions for salvation given by Jesus (Mark 16:16; Acts 2:38).
Baptism in no way invalidates the grace of God, just as the necessity of belief for salvation does not invalidate it (John 8:24; 6:29). The fact that one must believe and be baptized in Christ in order to be saved (Mark 16:16) does not mean that he/she earns or deserves salvation. Salvation is still "a gift by His grace" (Romans 3:24, NASB) because Jesus is still the means by which God justifies the sinner.
–Jerry Falk