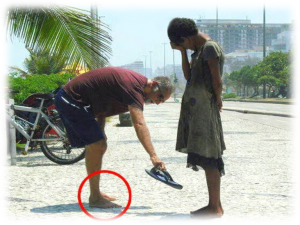 What Is a "Sacrifice"?
The word "sacrifice" refers to forfeiting one thing for another thing that is considered to be of greater value. The New Testament teaches that the early Christians were willing to lose their possessions and even their lives in order to follow Christ and obtain the crown of eternal life (Matthew 19:27; Acts 7:54-60; 12:1-2; Revelation 2:10).
The Mindset of Many Today
In contrast, many today seem to feel that it's possible to be faithful Christians without having to deprive themselves of anything at all. The idea of making sacrifices similar to those of the first-century disciples is now viewed as excessive and even fanatical. One should never be expected to give up religious beliefs or bad habits in order to gain God's approval… or so they think.
The Example of the Apostle Paul
All of the advantages that the apostle Paul had as a zealous leader of the Jews were regarded by him as "loss for the sake of Christ" (Philippians 3:4-8). Paul goes on to say, "Indeed, I count everything as loss because of the surpassing worth of knowing Christ Jesus my Lord. For his sake I have suffered the loss of all things and count them as rubbish, in order that I may gain Christ" (Philippians 3:8).
So great was Paul's willingness to forfeit certain things for the cause of the gospel that he wrote, "It is good not to eat meat or to drink wine, or to do anything by which your brother stumbles" (Romans 14:21). Paul thought that it is much better for one to deprive himself of something that he likes than to make a fellow Christian stumble.
So intense was his readiness to make sacrifices that this selfless servant of God desired to share in the sufferings of Christ for the cause of the gospel (Philippians 3:10; 2 Timothy 4:6-8). We do everything we can to avoid suffering; Paul ran to it! He was willing to give up his comfortable position in Judaism that he might obtain another thing of much greater value: the resurrection from the dead (Philippians 3:11)!
Are we willing to forfeit whatever hinders us in order to "gain Christ" (Philippians 3:8)?
–Jerry Falk