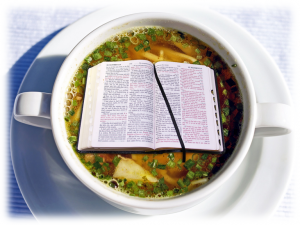 Back in the early 1990's, a very popular series of books was released entitled "Chicken Soup for the Soul." This name was chosen for the series because of the use of chicken soup as a home remedy for the sick. Just as chicken soup is supposed to be "good for the body," the inspirational stories included in these books were meant to be "good for the soul."
Thousands of years before this series came to light, God had already provided man with the world's best "chicken soup," chock full of only the choicest ingredients. Before you swallow the first spoonful, remember that God is the real "Chef" and Creator of this marvelous "recipe" (2 Timothy 3:16-17; 1 Thessalonians 2:13).
The World's Best "Chicken Soup"
"Oh how I love your law! It is my meditation all the day" (Psalm 119:97). "How sweet are your words to my taste, sweeter than honey to my mouth! Through your precepts I get understanding…" (Psalm 119:103-104).
"Trust in the Lord with all your heart, and do not lean on your own understanding. In all your ways acknowledge him, and he will make straight your paths. Be not wise in your own eyes; fear the LORD, and turn away from evil. It will be healing to your flesh and refreshment to your bones" (Proverbs 3:5-8).
"…be attentive to my words; incline your ear to my sayings. Let them not escape from your sight; keep them within your heart. For they are life to those who find them, and healing to all their flesh" (Proverbs 4:20-22).
Medicine for What Really Ails Us
If you want to find true rest for your soul, you won't find it in little inspirational stories that don't clearly identify or denounce humanity's greatest problem. The Bible points out this problem when it says that "all have sinned and fall short of the glory of God" (Romans 3:23).
Of all the world's popular religions, never is there a more exact description of sin than when Jesus says, "What comes out of a person is what defiles him. For from within, out of the heart of man, come evil thoughts, sexual immorality, theft, murder, adultery, coveting, wickedness, deceit, sensuality, envy, slander, pride, foolishness. All these evil things come from within, and they defile a person" (Mark 7:20-23). Jesus clearly points out that the source of sin is the human heart.
Because of sin, mankind is sick. To describe this condition, the prophet Isaiah told the people of his day, "Your whole head is injured, your whole heart afflicted. From the sole of your foot to the top of your head there is no soundness– only wounds and welts and open sores, not cleansed or bandaged or soothed with olive oil" (Isaiah 1:5-6, NIV).
Mankind doesn't need pep talks that address the symptoms of his disease without attacking its cause. We need a real remedy!!!
Only Jesus has the "homemade stuff." He's not going to shower us with platitudes about "the power of positive thinking" or give us Lipton's "Cup-a-Soup" with artificial "flavor enhancers" like disodium inosinate and monosodium glutamate!
He invites all to the world's healthiest, spiritual feast with these words: "…whoever drinks of the water that I will give him will never be thirsty again. The water that I will give him will become in him a spring of water welling up to eternal life" (John 4:14).
"For the bread of God is he who comes down from heaven and gives life to the world. … I am the bread of life; whoever comes to me shall not hunger, and whoever believes in me shall never thirst. … This is the bread that comes down from heaven, so that one may eat of it and not die. I am the living bread that came down from heaven. If anyone eats of this bread, he will live forever. And the bread that I will give for the life of the world is my flesh" (John 6:33,35,50,51).
"To the one who conquers I will grant to eat of the tree of life, which is in the paradise of God. … To the one who conquers I will give some of the hidden manna…" (Revelation 2:7,17).
"Come to me, all who labor and are heavy laden, and I will give you rest. Take my yoke upon you, and learn from me, for I am gentle and lowly in heart, and you will find rest for your souls. For my yoke is easy, and my burden is light" (Matthew 11:28-30).
"Soup's" on! Would you like some?
–Jerry Falk