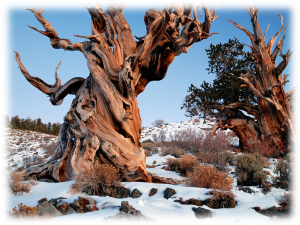 The World's Oldest Tree
In the White Mountains of eastern California there is a Great Basin Bristlecone Pine by the name of Methuselah. It's estimated to be around 4,850 years old, which makes it one of the oldest living trees in the world.
It's named after Methuselah, an Old Testament character having the longest lifespan of anyone mentioned in the Bible. According to Genesis 5:27, Methuselah was 969 years old when he died.
This tree has seen many things. A poem by Robert McGough entitled "The Curse of Methuselah" tries to imagen what it might have been like:
The years, like necklaces bestow
a wisdom, humankind can never know.
Millennia, they come and go.
Have no eyes, but have seen it all.
Unlike words, tree-rings never lie.
One year was freezing cold and dark.
The sun was hidden in the sky.
I tasted brimstone and it left its mark.
This tree has had to endure rain, wind, lightning, hail, snow, the scorching rays of the sun, earthquakes, and perhaps even fire. However, despite its many trials, it perseveres. Its strength is seen in its ability to overcome the storms of life. It's one of the world's greatest examples of steadfastness and stability.
Trees in the Book of Psalms
The Psalmist mentions this kind of tree when he says, "Blessed is the man who walks not in the counsel of the wicked, nor stands in the way of sinners, nor sits in the seat of scoffers; but his delight is in the law of the LORD, and on his law he meditates day and night. He is like a tree planted by streams of water that yields its fruit in its season, and its leaf does not wither. In all that he does, he prospers" (Psalms 1:1-3).
In another passage, the Psalmist writes, "The righteous flourish like the palm tree and grow like a cedar in Lebanon. They are planted in the house of the LORD; they flourish in the courts of our God. They still bear fruit in old age; they are ever full of sap and green, to declare that the LORD is upright; he is my rock, and there is no unrighteousness in him" (Psalms 92:12-15).
The Faithful Disciple of Christ Perseveres
Likewise, those who decide to follow Christ must learn to stand firm and weather the storms of life. True servants of God are known for their unshakable resolve and stability (1 Corinthians 15:1,2,58; Hebrews 2:1-3). They are immovable and steadfast, even in times of trial.
With God's help, the faithful disciple of Christ perseveres. When times get tough, he does not throw in the towel. He says together with King David, "I am like a green olive tree in the house of God" (Psalms 52:8) and "He only is my rock and my salvation; He is my defense; I shall not be moved" (Psalms 62:6).
–Jerry Falk