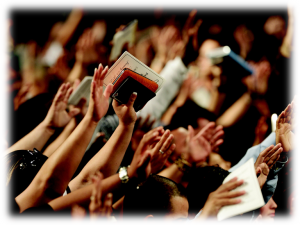 If a person is religious, is that enough to save him? If you are a very religious individual, does that mean you will automatically go to heaven? I think many would answer "yes" to these questions, but what does the Bible have to say on this matter?
Those Wish to Enter the Kingdom of Heaven
Consider those Jesus described in Matthew 7:21-23: "Not everyone who says to me, 'Lord, Lord,' will enter the kingdom of heaven, but the one who does the will of my Father who is in heaven. On that day many will say to me, 'Lord, Lord, did we not prophesy in your name, and cast out demons in your name, and do many mighty works in your name?' And then will I declare to them, 'I never knew you; depart from me, you workers of lawlessness.'"
What Kind of People Is Jesus Talking About?
Carefully look at the above verses again. Were these people religious? Yes. Did they believe in Jesus? Yes. Were they convinced that what they were doing was by His authority (i.e., in His name)? Yes. But Jesus did not recognize them. In fact, He says they practiced "lawlessness," and, as a result, would not be granted entrance into the kingdom of heaven. How can this be? Simply because Jesus said men must "do" (obey) the will of the Father in heaven in order to go to heaven.
The Desire and Prayer of Paul
Next, let's notice the text of Romans 10:1-3. "Brothers, my heart's desire and prayer to God for them is that they may be saved. For I bear them witness that they have a zeal for God, but not according to knowledge. For, being ignorant of the righteousness of God, and seeking to establish their own, they did not submit to God's righteousness."
The apostle Paul here speaks of his fellow Jews that were continuing to follow the law of Moses rather than the law of Christ (Romans 10:4-5). Were these Jews religious? Yes. Were they zealous for God? Yes. However, they sought to establish their own righteousness, and refused to submit to the righteousness of God. (See Romans 1:16-17; 3:21-22.) Were they in a saved condition? No. For Paul said his heart's desire and prayer was "that they may be saved" (Romans 10:1).
A Religious Man Who Was Not Saved
Then finally, let's take a brief look at Acts 10. Here we read of a man named Cornelius who is described to us as: "a devout man who feared God with all his household, gave alms generously to the people, and prayed continually to God" (Acts 10:2). Was this very religious man in a saved condition? No. Because an angel of God instructed him to send for the apostle Peter who would "declare to you a message by which you will be saved, you and all your household" (Acts 11:13-14). Therefore, he and his household were in a lost condition. They needed to hear and respond to the gospel to be saved (Romans 10:13-17; 1 Timothy 2:3-4).
After hearing the gospel they were "baptized in the name of Jesus Christ" (Acts 10:48) in order to "receive remission of sins" (Acts 10:43; cf. Acts 2:38). This all coincides exactly with the Lord's great commission, "Go into all the world and proclaim the gospel to the whole creation. Whoever believes and is baptized will be saved, but whoever does not believe will be condemned" (Mark 16:15-16).
What do you think? Is being religious enough?
–Jesse Flowers