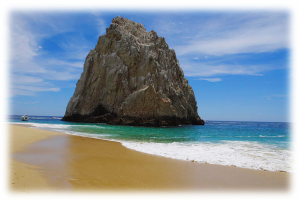 God is often called a Rock in the Psalms and elsewhere in Scripture. David proclaimed, "Jehovah is my rock, and my fortress, and my deliverer; my God, my rock, in whom I will take refuge; my shield, and the horn of my salvation, my high tower" (Psalms 18:2, ASV). Let us meditate on what it means for the Lord to be our rock.
God Doesn't Change
First, God's character is as solid as a rock.  He is unchangeable in nature.  Unlike any man, his justice, righteousness, and faithfulness can be counted on (Deuteronomy 32:1-4).  The prophet Isaiah emphasizes what a great consolation this is to his people, for it makes it possible to place our trust completely in him and thereby experience perfect peace (Isaiah 26:3-4).
He Is a Protector
Secondly, God is our source of strength in times of distress and danger. The word "rock" is rightly equated with the idea of strength, and rock was used to build walls, fortresses, and towers in Bible times. When faced with barrenness and the oppression of her peers, Hannah found strength in God. She prayed, "There is none holy as Jehovah; for there is none besides thee, neither is there any rock like our God" (1 Samuel 2:2, ASV). Consider also the trials of David, Moses, and others who were able to persevere and overcome by leaning on the Lord as their Rock (2 Samuel 22:1-3,32,47; Exodus 33:18-22). We also can take refuge in the Almighty. Like Moses, we can hide in the cleft of "the Rock." God will care for us.
He Is a Provider
Thirdly, God provides for our needs. This may seem a strange application in relation to a rock, but it comes from a specific moment in Biblical history. During the time of the Israelites' wandering in the desert wastes, God caused water to flow from a rock to sustain their lives (Deuteronomy 8:15). In the New Testament, Paul further enriches the meaning of this event for us when he explains that Christ himself is the fulfillment of this shadow (1 Corintios 10:4). All of our deepest needs are provided for by God through Christ!
He Is a Sure Foundation
Finally, we reflect on the foundation of our lives.  For such, we desperately need something solid, not the sands of this world's vain reasonings, and we can find it only in Christ and His word (Luke 6:46-49).  Jesus is a rock –a rock of offense who will fall upon and crush those who reject Him, but the spiritual chief-cornerstone for those who obey Him (Ephesians 2:20; Romans 9:33; 1 Peter 2:8).
How grateful we should be to worship God our Rock, the Unchanging One, the Protector, the Provider, and the Sure Foundation!
–Brigham Eubanks