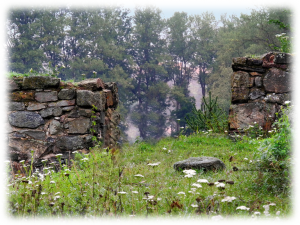 "I Am the Door of the Sheep" (John 10:7)
One hundred years or so ago, George Adam Smith was considered among the great conservative Biblical scholars. (I still consult his commentary on Isaiah.) Professor Smith had traveled extensively in the lands of the Bible, and one story he told involved a visit to a sheepfold. The walls of Palestinian sheepfolds were typically constructed of rocks and stones. The door was never a door on hinges, but just an opening in the wall.
Smith's Conversation with a Shepherd
"Is that a fold for sheep?" Smith asked the shepherd.
"Oh yes," came the reply.
Smith continued, "I only see one way in."
"Yes," said the shepherd, pointing to an opening in the wall.
Smith said, "But there is no door there."
To his amazement, the shepherd answered, "Oh, I am the door."
"What do you mean by calling yourself the door?" Smith wanted to know.
The shepherd replied, "The sheep go inside, and I come there and lie down across the threshold, and no sheep can get out except over my body, and no wolf can get in except over me."
Applied to the Followers of Christ
Isn't that a great story because of the insight it sheds on John 10? Christ's work as a shepherd is to keep us safely in the fold (cf. Romans 5:10) and to keep spiritual predators out. Christ is actively working to keep us "by the power of God through faith for salvation ready to be revealed in the last time" (1 Peter 1:5, NKJV).
Thank God for the door that is Christ Jesus our Lord!
–Kenny Chumbley