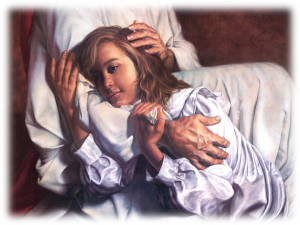 Several years ago, while dropping my son off at school, a phrase on the back of a car caught my attention. It said, "I know how you feel. I just don't care."
I'm afraid this was more than just a cute attention grabber. A search for the phrase on Google produced 1,500,000 hits! It was so popular (back in 2009) that one could purchase t-shirts, key chains, and car air fresheners with these words. It's a sad day in the United States when so many people can identify with the sentiment expressed in these foolish novelty items.
The idea seems to be: I know you're going through some tough times. I don't want to hear it. It's not my problem. This reminds me of the Spanish idiom "ojo que no ve, corazón que no siente" (eye that doesn't see, heart that doesn't feel). What this means essentially is that if you don't know about the hardship others are experiencing, you won't have to suffer. Tune it out and be happy!
Fortunately for us, God is not like this. Instead, when you're going through difficult times, He wants you to "cast all your anxieties on him, because he cares for you" (1 Peter 5:7).
So great is His concern for us that He gave His only begotten Son to die on our behalf (John 3:16)! With this in mind, the apostle Paul says that "while we were still weak, at the right time Christ died for the ungodly. For one will scarcely die for a righteous person–though perhaps for a good person one would dare even to die– but God shows his love for us in that while we were still sinners, Christ died for us" (Romans 5:6-8). Not only does the Father care for us, He demonstrates His concern by His actions!
Jesus cares about us in the midst of trials and temptations because He himself suffered these things and, consequently, "is able to help those who are being tempted" (Hebrews 2:18). Later, the inspired writer of Hebrews says that Jesus "is able to save to the uttermost those who draw near to God through him, since he always lives to make intercession for them" (Hebrews 7:25). While the world would rather not know our problems, Jesus Christ lives to intercede for us before the Father's throne.
Perhaps this is why the Psalmist said, "I lift up my eyes to the hills. From where does my help come? My help comes from the Lord, who made heaven and earth" (Psalms 121:1-2).
In this uncaring world, we can be sure that God cares about us… and He has demonstrated it by His actions!
–Jerry Falk