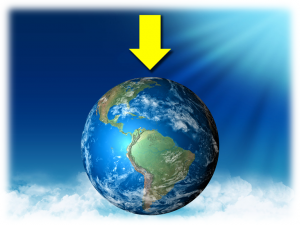 The Bible teaches that Jesus will come a second time, though his feet will never touch the earth (1 Thessalonians 4:16-17). Here, however, we present several reasons for Jesus' first coming.
The Encarnation of "the Word"
About two thousand years ago, the moment arrived for "the Word" to become flesh (John 1:1,14). Though Jesus is described as one who was "with God," the apostle John also tells us that he "was God," a clear reference to his divine nature. Throughout all eternity, the Word, the person of the Godhead whom we now know as Jesus, had been with the Father… but now it was time for him to be "with us" (Matthew 1:23).
Jesus Had at Least Five Objectives During His First Coming
(1) To acquire a human form. Jesus' first objective was to be "born in the likeness of men" (Philippians 2:7; cf. Luke 1:34-35; Galatians 4:4). In order for Jesus to "make atonement" for our sins, he first had to be "made like" us (Hebrews 2:17). It was necessary for him to have a physical body in order to offer the sacrifice that God desired (Hebrews 10:5).
(2) To fulfill Old Testament prophecies. After his resurrection from the dead, Jesus explained to two disciples on the road to Emmaus the parts of the Old Testament that speak about him (Luke 24:27). Later, he met with the apostles and told them, "These are my words that I spoke to you while I was still with you, that everything written about me in the Law of Moses and the Prophets and the Psalms must be fulfilled" (Luke 24:44).
(3) To teach us more perfectly about the nature of God. The person of Jesus provides the perfect response to the question "What is God like?" In John 14:7, Jesus said to the apostles, "If you really know me, you will know my Father as well. From now on, you do know him and have seen him" (NIV). For this very reason, the apostle Paul later wrote, "For in him the whole fullness of deity dwells bodily" (Colossians 2:9).
(4) To leave us an example. We can't argue that God doesn't know what it's like for humans to serve him faithfully in the midst of suffering. Jesus shows us that this is possible (1 Peter 2:19-21; Hebrews 12:2-3). He has also left us a perfect example of the importance of serving one another (John 13:15).
(5) To die for sinful man. According to "the predetermined plan and foreknowledge of God" (Acts 2:23 NASB; 4:28), Jesus gave His life a ransom for all so that in him we might receive forgiveness of sins (Ephesians 1:7; 1 Timothy 2:6).
One overriding principle compelled Jesus to come to the earth and fulfill these objectives perfectly: LOVE! "For God so loved the world, that he gave his only Son, that whoever believes in him should not perish but have eternal life" (John 3:16).
–Jerry Falk