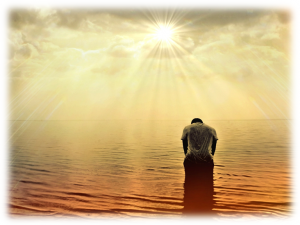 Fear—profound reverence and submission—is one of the basic reactions man should have towards God. God desires and expects it from us. It is the natural response of anyone soberly considering the Lord's might, his majesty, and his judgment. It engenders, above all, humble obedience, and precludes questioning God or rebelling against his will.
Jesus insists that fearing God is essential and uses stark descriptions of God's judgment to encourage fear: "But I will warn you whom to fear: fear him who, after he has killed, has authority to cast into hell. Yes, I tell you, fear him!" (Luke 12:5)
Such language might shock many. However, Jesus is not suggesting that we should feel terrorized by God, as if he were someone from whom to protect ourselves. The one who embraces the fear of the Lord runs to him, bows before him, and will own no other master. The fear of God is wholesome. Let's briefly consider, from the same context of Jesus' statement above, three benefits of fearing God.
1) Fear of God is the solution to our hypocrisy
Jesus' declaration in Luke 12:5 comes in the context of a strong warning against hypocrisy. The principal religious sect of the day among the Jews were the Pharisees, and they were brazen hypocrites that based their own self-assessment on observation of superficial religious rites, many of which they had invented themselves. They appeared righteous on the outside, but "inside [were] full of greed and wickedness" (Luke 11:39). They held an exalted status in society thanks to their reputation for righteousness, even if God knew the reality.
Receiving the praise of men can be intoxicating, and will soon take over our lives as we strive to please men and garner their approval instead of caring about what God thinks of our hearts. Jesus compares such hypocrisy to leaven, a substance which takes over a loaf of bread even in small quantities. This whole desperate effort to appear righteousness before the eyes of men, which requires us to take great pains to conceal any wicked deeds and allows us to ignore sinful inclinations of the heart, dissolves into nothing as we leave off caring what people think and shift to fearing the Lord. Hypocrisy comes from the fear of man. True righteousness comes from fearing the real Tester of the heart.
2) Fear of God takes away every other fear
Jesus quickly pairs his teaching on the fear of God with another constantly-needed reminder: God loves us perfectly! "Are not five sparrows sold for two pennies?" He says. "And not one of them is forgotten before God. Why, even the hairs of your head are all numbered. Fear not; you are of more value than many sparrows" (Luke 12:6-7). How can Jesus move so quickly from stressing the need for fear to exhorting us to "fear not"?
The object of our fear makes all the difference. We are so beset with fears of all sorts of things, and often live in trepidation of the next threat to our security. Yet when we fear the Almighty, the One with power over all, and internalize also the fact that, because of his perfect love, not a hair of our heads is affected without his knowledge and personal care, we are free to no longer worry about everything else. If we will submit to and serve God, he'll make it work out fine.
3) Fear of God empowers us to obey even when it's difficult
The disciples would face fierce opposition from the influential Pharisees. However, Jesus reassured them, saying, "And when they bring you before the synagogues and the rulers and the authorities, do not be anxious about how you should defend yourself or what you should say" (Luke 12:11). Without a deep and permanent fear of God, the disciples might be tempted to be overwhelmed in such a situation by the fear of man. The natural defense would be to deny Jesus, just to please the authorities.
So much of our failure to serve God boldly and faithfully is due to the fear of man, and desiring to please people instead of God. Turning to fear God allows us see whatever negative consequences individuals and society may impose on us for our faith in their true proportion. They are nothing! I would rather be denied by man in this present age than denied by Christ in the judgment (Luke 12:8-9)!
Conclusion
For these and perhaps a good many other reasons, the fear of God is to be recommended and sought. "The fear of the LORD is clean, enduring forever" (Psalm 19:9).
–Brigham Eubanks