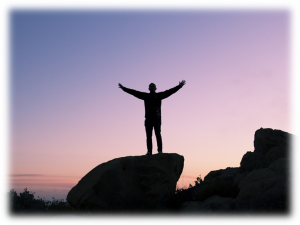 In a previous article, we saw that faith is described as "assurance" (Hebrews 11:1) and serves as the solid foundation for our hope. We mustn't doubt Jesus Christ or his word, as did the Hebrew Christians who were returning to Judaism.
The Sad Current State of "Faith"
We live in a world of chock-full of uncertainty. Many fall prey to hopelessness and despair because their "faith" is either non-existent or cracking at the seams. This is due, at least in part, to the fact that faith itself has become something based almost entirely on personal feelings rather than Scripture. The faith of many lacks the the unshakable standard that only the written word of God can provide (Romans 10:17).
Do You Have "Assurance"?
Are you sure that God has spoken through His Son (Hebrews 1:2)? Are you confident about the fundamental truth that Jesus is the only begotten Son of God (Hebrews 1:5; John 3:16)? Are you certain that Jesus was crucified, buried, and resurrected from the dead (1 Corinthians 15:3-4)? Do you have assurance of salvation in Jesus and only in Him (Acts 4:12; 1 John 5:11)? Some Jews who converted to Christ would have had a hard time answering these questions… and it had a devastating impact on their hope!
The Christian's One True Hope
The "things hoped for" (Hebrews 11:1) can be summed up in one word: heaven (Ephesians 4:4; Philippians 3:20; 1 Peter 1:3-4). The Christian's hope is not, as some allege, to live forever on the earth. The earth and all of the heavenly bodies will be utterly destroyed (2 Peter 3:7,10-12). Neither is this hope based on a renovated earth cleansed by fire, but rather Christians look forward to "new heavens and a new earth" (2 Peter 3:13), that is, an existence entirely different from our present physical realm. This phrase is a metaphor for heaven.
Hope Depends on Faith
The condition of our hope depends on the condition of our faith. If the foundation is weak and crumbling, our hope will also come tumbling down. If our hope is shaky and threatens to implode, we must attack the problem at the source. It may just be the result of a lack of trust in Jesus Christ and his word.
This was the problem of some of the Jews converted to Christ. Their faith in Jesus was not the solid foundation that it needed to be and, consequently, they were drifting back to Judaism. This is why the writer of Hebrews reminds them that they needed to have a stronger faith so as to not lose their hope (Hebrews 4:1-2; 6:11-12; 10:35-39; 11:6,13-16; 13:7). They were apostatizing, or renouncing their belief in Christ, because of persecution.
Why Some Christians Forget About Heaven
Have you ever noticed how you easily lose sight of heaven while going through trials? The problem might lie with your faith (i.e., assurance, Hebrews 11:1). This is exactly why the apostle Paul encourages us to take spiritual inventory of ourselves when he says, "Examine yourselves, to see whether you are in the faith. Test yourselves. Or do you not realize this about yourselves, that Jesus Christ is in you?–unless indeed you fail to meet the test (2 Corinthians 13:5)!"
True faith that overcomes the world (1 John 5:4) is an assurance or confidence that enables us to continue to trust in Jesus Christ and his word regardless of the trials that we may be experiencing. Make sure that your confidence in Jesus is rock-solid so that it will continue to support your heavenly hope!
If you are not a Christian, why not place your trust in Jesus and his word today by obeying the gospel (John 8:24; Acts 17:30; Romans 10:9-10; Mark 16:16)? Only in this way can you have the assurance of something far better than this life!
–Jerry Falk