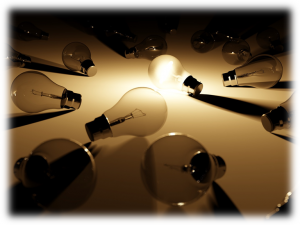 Terms Defined
Fellowship means "participation [or] communion" (Strongs). Paul uses a similar word when he says,"What partnership have righteousness and lawlessness, or what fellowship has light with darkness?" (2 Corinthians 6:14, NASB). His question is rhetorical. The answer is none.
In a spiritual sense, the word "darkness" is used to refer to ignorance, error (John 3:19; Romans 2:19), and the state or condition of one who is in sin (Matthew 4:16; Luke 1:79). In God there is "no darkness at all" (1 John 1:5) and those who wish to be like him will also strive to imitate this divine attribute.
As we saw above, those who wish to be lights refuse to participate in religious error and sin. They understand that the realm of darkness belongs to Satan (Ephesians 6:12) and that they should keep as far away from it as possible.
Many "Love" the Darkness
One would think that humanity's aversion to physical darkness would carry over into the spiritual realm, but, unfortunately, this is not the case! Many people actually prefer the darkness of spiritual ignorance and disobedience to the light of God's word.
In fact, so strong is their desire to retain sinful attitudes and habits that Jesus uses the Greek word AGAPAO to describe their "love" of the darkness. He says, "This is the judgment, that the Light has come into the world, and men loved the darkness rather than the Light, for their deeds were evil" (John 3:19, NASB). The idea is that they find joy and pleasure in sin to such a degree that they regard it with strong affection.
It's no wonder, then, that the apostle John says, "Do not love the world or the things in the world. If anyone loves the world, the love of the Father is not in him" (1 John 2:15). We should not allow ourselves to become affectionately attached to the sinful things of this world.
Some Choose to Leave It
Because of this almost universal preference of evil over good, many find themselves in Satan's "domain of darkness" (Colossians 1:13). But a few choose to leave it! The Christians in Colossae had abandoned ignorance and error and had been "transferred" to the kingdom of God's beloved Son when they were "buried with [Christ] in baptism" and received forgiveness of sins (Colossians 2:12-13; compare Acts 2:38).
Dear reader if you are in the light, do everything in your power to avoid participating in the "unfruitful deeds of darkness" (Ephesians 5:11). If you, however, still find yourself in the darkness of sin and despair, why not come to the light? Believe in Christ (John 8:24), repent (Acts 17:30), and be baptized for the forgiveness of your sins (Acts 2:38; 22:16).
–Jerry Falk