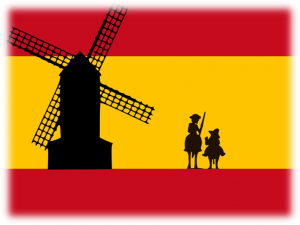 A Spanish Writer Becomes a Slave
History tells us that Miguel de Cervantes, who is regarded as one of the greatest Spanish novelists of all time, was a slave for five years. He is known primarily for his work "The Ingenious Gentleman Sir Quixote of La Mancha" (or simply, Don Quixote).
On September 6 or 7, 1575, Cervantes set sail on a ship from Naples, Italy to Barcelona, Spain. On the morning of September 26, as his ship drew near to the coast of Catalonia, it was besieged by Ottoman pirates. Cervantes was taken to Algiers, Africa, where he was held captive as a slave for five years. After several unsuccessful escape attempts, Cervantes' family members and the Trinitarians, a Catholic religious order, sold properties and jewels to pay his ransom and save the writer. Upon completion of this transaction, he was returned to his family in Madrid.
Redemption in the Bible
The word "ransom" refers to a sum of money or other payment demanded or paid for the release of a prisoner. This concept is found in both the Old and New Testaments, as well as the similar idea of "redemption."
The Israelites knew what it meant to be "redeemed." They had spent many more years than Cervantes in Egyptian bondage, after which God rescued them with mighty signs and wonders (Exodus 7:14-11:10; 12:29-30). In Exodus 6:6, he tells Moses to say to the Hebrews, "'I am the LORD, and I will bring you out from under the burdens of the Egyptians, and I will deliver you from slavery to them, and I will redeem you with an outstretched arm and with great acts of judgment'" (See also Deuteronomy 7:8; 13:5).
The Overlooked Plight of Many Today
Nowadays, many are slaves without realizing it. All those who have not been rescued by Jesus Christ are slaves of sin. During his earthly ministry, Jesus told the religious leaders, "Truly, truly, I say to you, everyone who commits sin is a slave to sin … So if the Son sets you free, you will be free indeed" (John 8:34-36). The apostle Paul wrote to Titus about how he and other fellow Christians "were once … slaves to various passions and pleasures" (Titus 3:3). Though we live in a world of greater medical and scientific advances, the problem of slavery to sin continues to plague all of humanity (Romans 3:23).
Only Jesus Can Release us From the Slavery of Sin
Jesus came to this earth "not to be served but to serve, and to give his life as a ransom for many" (Matthew 20:28; 1 Timothy 2:5-6). It is not with silver or gold, as in the case of Miguel de Cervantes, that we are rescued from our captor (1 Timothy 2:26) but "with the precious blood of Christ" (1 Peter 1:18-19).
When one obeys the pure gospel of Christ, he is released from the slavery of sin and becomes a servant of righteousness (Romans 6:16-18). This marvelous transformation occurs when we are "baptized into Christ Jesus" (Romans 6:3) or, in other words, "united with Him in the likeness of His death" (Romans 6:5, NASB) "in order that our body of sin might be done away with" (Romans 6:6).
The apostle Peter said the same thing, but with different words, when he said that the biblical purpose of water baptism is "for the forgiveness of your sins" (Acts 2:38). Notice: nothing is said here about baptism being "for a public testimony" that one is already saved. The "body of sin" is "done away with" when one is immersed in water for the forgiveness of sins.
Only when we become "obedient from the heart to that form of teaching" (i.e., baptism, Romans 6:17,1-7) are we "freed from sin" and become "slaves of righteousness" (Romans 6:18).
Have YOU been rescued from the slavery of your sins by the only one who can make you truly free? (John 8:36)
–Jerry Falk