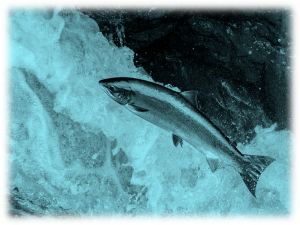 Following popular opinion is a cinch. Simply believe and do whatever is commonly accepted by the majority and you'll fit in just fine! You'll earn the approval of fellow workers, classmates, and others with practically no effort. All you have to do is swim downstream with them. Better yet, just float with them and let the tide do the work!
Not Conformed But Transformed
But if you want to be like Jesus, you'll need to resist the "current" of this world. Along these lines, the apostle Paul wrote to the Christians in Rome, a city abounding with idolatry and sexual immorality, "I appeal to you therefore, brothers, by the mercies of God, to present your bodies as a living sacrifice, holy and acceptable to God, which is your spiritual worship. Do not be conformed to this world, but be transformed by the renewal of your mind, that by testing you may discern what is the will of God, what is good and acceptable and perfect" (Romans 12:1-2). Again, not conformed to the world but transformed by the will of God.
By saying that we should not be conformed "to this world," Paul refers to the sinful thoughts and customs of those who do not obey the word of Christ (Titus 2:11-12; James 4:4; 1 John 2:15-17). Christians are encouraged to "not be conformed to the passions of [their] former ignorance" but to be holy as God is holy (1 Peter 1:14-15).
The Most-Blessed People
The world wants to make Bible-believers feel awkward, unfulfilled, and unhappy because they are different from the majority. However, those who strive to be transformed by the will of God are the most blessed men and women on earth!
By renouncing the sinful philosophies and customs of this world, they are reassured of their fellowship with God! By refusing to follow "the course of this world" (Ephesians 2:2), God promises: "I will make my dwelling among them and walk among them, and I will be their God, and they shall be my people. … then I will welcome you, and I will be a father to you, and you shall be sons and daughters to me, says the Lord Almighty" (2 Corinthians 6:16-18). It is a far better to have the approval of God than that of men (John 5:41; 12:42-43; Galatians 1:10)!
People Who Are Different
Christians are called to be different in the way that they think, talk, act, and even dress. They strive to follow Jesus instead of the "god of culture" and, like their Teacher, sometimes they are ridiculed and ostracized for it. Many think that they're narrow-minded, old-fashioned, and judgmental. However, a few in the world will realize that their allegiance to Christ is real and, upon seeing their joy and conviction in serving Him, will desire what they have!
–Jerry Falk