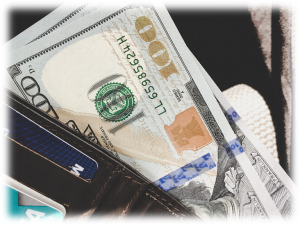 Mark 14 recounts an extravagant act of love and devotion for Jesus. In verse 3, an unnamed female disciple broke an alabaster flask of costly, fragrant ointment and poured it over the Master's head. According to the onlookers, the value of the frask and its contents was approximately a year's wages.
Those who know me and my conservative personal spending habits well won't be shocked to hear me admit that, were I present at that moment, I might have been found among those who protested: "Why was the ointment wasted like that?" (Mark 14:4). I say it with shame, however. It means that I have not learned the comparative value of money and of the Savior. Judas Iscariot, the Lord's traitor, was another voice objecting to the act, and I certainly don't want to share his evaluation, especially in the face of Jesus' high praise of the woman's devotion: "Truly, I say to you, wherever the gospel is proclaimed in the whole world, what she has done will be told in memory of her" (Mark 14:9).
How Much of Our Money Does God Get?
What portion of our money should go to God? Ten percent? A year's wages?
Indeed, Jesus repeatedly declares that everything we own and ever will own must be submitted to his use, whether we are poor or rich.
It was not long before this episode of anointing that Jesus praised an indigent widow who contributed two small coins to God's service: "she out of her poverty has put in everything she had, all she had to live on" (Mark 12:44). On another occasion, Jesus, out of a heart of love, called upon a rich young man to "go, sell all that you have and give to the poor" (Mark 10:21). Where this wealthy man could not bring himself to make such a sacrifice, Peter and the disciples did: "See, we have left everything and followed you," they testified to the Lord (Mark 10:28). These devoted souls received Christ's blessing and the promise of eternal life (Mark 10:29-30).
In the clearest statement of all, Jesus announced, "So therefore, any one of you who does not renounce all that he has cannot be my disciple" (Luke 14:33). The decision to become a Christian, for one thing, is a decision to place all of one's possessions at God's disposal. When we are baptized into Christ, perhaps we should make sure our wallets remain in our pockets!
What Does It Mean to "Leave Everything"?
Were there rich disciples in the first century? Yes. But these Christians were urged "to be generous and ready to share" (1 Timothy 6:17-19). Being "ready" to share means that the decision to share with those who are in need, especially believers (Galatians 6:10), has long ago been made, and when the opportunity arises, there is no hesitation. Such people have already mentally — within their heart — "left everything."
Thus we read of many lavish displays of generosity in the New Testament: "There was not a needy person among them, for as many as were owners of lands or houses sold them and brought the proceeds of what was sold and laid it at the apostles' feet, and it was distributed to each as any had need" (Acts 4:34-35). Even among Christians with fewer resources, the liberality of giving was noteworthy: "We want you to know, brothers, about the grace of God that has been given among the churches of Macedonia, for in a severe test of affliction, their abundance of joy and their extreme poverty have overflowed in a wealth of generosity on their part" (2 Corinthians 8:1-2).
We Will Have to Make the Choice
Whether in giving to the needy, making regular offerings to the Lord's service (1 Corinthians 16:1-2; Philippians 4:15-16), or simply having a simpler lifestyle because one has refused the worldly ways of ambition, greed, and trust in riches, our commitment to God and our pocketbooks will inevitably find conflict.
Let our financial choices be governed entirely by the conviction that Jesus is King, and that we are but travelers in the world with our treasures in heaven. Let observers judge that we are wasteful and extravagant in the service of others. We will have done only as the woman who anointed Jesus did. Our faith will shine, and we will have glorified Christ above silver and gold.
–Brigham Eubanks