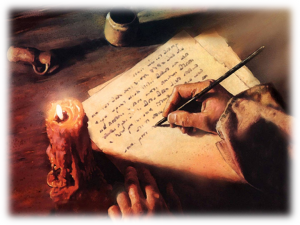 Not only does the Bible affirm that God compelled certain individuals to "prophesy" or speak on his behalf (2 Peter 1:19-21), some were also divinely instructed to keep a record of this message in writing.
The Best-Preserved Book of All Time
Today, the New Testament "has been preserved in more manuscripts than any other ancient work of literature, with over 5,800 complete or fragmented Greek manuscripts cataloged, 10,000 Latin manuscripts, and 9,300 manuscripts in various other ancient languages including Syriac, Slavic, Gothic, Ethiopic, Coptic and Armenian. The dates of these manuscripts range from c. 125 [AD] … to the introduction of printing in Germany in the 15th century" (https://en.wikipedia.org/wiki/Biblical_manuscript).
The Result of God's Direct Command
Behind the proliferation of these hand-written copies is God's command that His message be written down. For example, at the beginning of the book of Revelation, Jesus tells John: "Write down, therefore, what you have seen, and what is happening, and what will happen afterward" (Revelation 1:19, NABRE). Toward the end of the book, God instructs the apostle: "Write this down, for these words are trustworthy and true" (Revelation 21:5).
The apostle Peter wrote: "And I will make every effort so that after my departure you may be able at any time to recall these things" (2 Peter 1:15). The two letters of Peter are commonly referred to as "general epistles" because they are not directed to one church in particular but rather to Christians who had been dispersed throughout "Pontus, Galatia, Cappadocia, Asia, and Bithynia" during the persecution initiated by the Roman emperor Nero (1 Peter 1:1). Peter was going to "make every effort" in order that Christians scattered throughout these areas might always "recall these things." How? By means of the reproduction and distribution of his letters.
Written, Copied, and Distributed
By the time Peter had written his second letter (around 67 AD), most of the twenty-seven letters or books of the New Testament had already been completed. The apostle Paul wrote thirteen or fourteen of these books, depending on our view of Hebrews. Referring to his letters, Peter states that "…our beloved brother Paul also wrote to you according to the wisdom given him, as he does in all his letters" (2 Peter 3:15-16).
Peter states that the recipients of his general epistles, scattered throughout the ancient world, had already become acquainted with Paul's epistles. Undoubtedly, this was because they had made copies and distributed them among the churches. Additionally, Peter equates Paul's letters with "other scriptures" (2 Peter 3:16), which is a clear indication of their inspired nature.
The Practice of the Early Christians
Christians in the first century had already developed the practice of reading, copying, and distributing these inspired letters among the churches. In his letter to the Colossians, Paul writes: "And when this letter has been read among you, have it also read in the church of the Laodiceans; and see that you also read the letter from Laodicea" (Colossians 4:16). Furthermore, when Paul wrote his first letter to the Corinthians he not only had them in mind but also "all those everywhere who call upon the name of our Lord Jesus Christ" (1 Corinthians 1:2). Lastly, the letter sent to Christians in Antioch, Syria, and Cilicia (Acts 15:23-29) is later referred to in Acts 21:25, even though several months or even years had passed.
God has conveyed his message in written form and encouraged his faithful servants to make copies and distribute them so that we might know His will today! He wishes to speak to you by means of this revelation. Have you read it?
–Jerry Falk