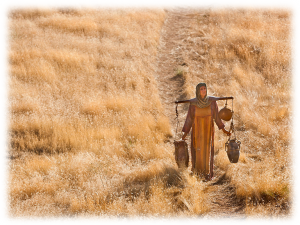 An Excellent Herald of the Good News
"So the woman left her water jar and went away into town and said to the people, 'Come, see a man who told me all that I ever did. Can this be the Christ?' They went out of the town and were coming to him" (John 4:28-30).
One of the best evangelists mentioned in the New Testament was a woman. She was more successful than we could ever hope to be. Because of her efforts, many from her town believed in Jesus.
Effective Despite the Obstacles
I'm certainly ashamed if I try to compare myself to her. This humble Samaritan woman was very successful despite several disadvantages: she was a woman (at that time, men would lend women less credibility), she had a reputation for being an immoral person, and she knew almost nothing about Jesus.
Three Important Factors
There were at least three keys that contributed to her success and are worthy of our imitation.
First, it can be inferred that the Samaritan woman spoke with great enthusiasm, which arose from a strong conviction in Jesus as the promised Messiah. She was so excited that she left her pitcher — the reason she had originally gone to the well — and brought the fervor of her discovery to the city, testifying that "He told me all that I ever did" (John 4:39). Likewise, it's necessary for us to be completely convinced of the message of salvation so that we can announce it to others with the same enthusiasm.
Second, the fact that she knew almost nothing about Jesus didn't stop her from teaching others. She did know two things: that Jesus was working miracles and that He was the Christ. The woman preached what she knew. We don't know everything, but we can tell others what we do know.
Lastly, the Samaritan woman led people to Christ. They later told her, "It is no longer because of what you said that we believe, for we have heard for ourselves, and we know that this is indeed the Savior of the world" (John 4:42). We must always remember that the power to convert others is not in us or in our words, but in Jesus and His words.
–Brigham Eubanks