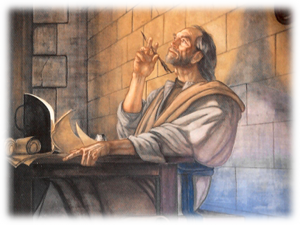 Shortly before His crucifixion, Jesus promised the apostles: "I will not leave you as orphans; I will come to you" (John 14:18). After having spent three years of their lives with the Master Teacher, the time had come for God's eternal plan to be fulfilled. Jesus, the Bread of Life which came down from heaven (John 6:33-35), had to return to His Father (John 14:28).
The Promise of "Another Helper"
Who would take His place? Who would become the true and only "Vicar of Christ"? Jesus gives the answer: "I will ask the Father, and he will give you another Helper, to be with you forever …. he will teach you all things and bring to your remembrance all that I have said to you" (John 14:16,26).
In Greek literature, the word translated here "Helper" was used of a "legal advisor, pleader, proxy, or advocate, one who comes forward in behalf of and as the representative of another" (The Complete WordStudy Dictionary). It literally means "called to one's side" (Thayer's Greek Definitions). In agreement with our text, it refers to the Holy Spirit destined to take the place of Christ after His ascension to the Father.
Inspired Men Who Would Lead Others "Into All the Truth"
This heavenly Assistant would teach the apostles "all things" and help them to remember "all" that Jesus had spoken to them. This is what is commonly referred to as "inspiration." Peter tells us in his second letter that "no prophecy ever came through human will; but rather human beings moved by the Holy Spirit spoke under the influence of God" (2 Peter 1:21, NAB-A).
In another verse, Jesus gave His apostles this promise regarding the Holy Spirit: "he will guide you into all the truth, for he will not speak on his own authority" (John 16:13). After the death of the apostles, there would be no new revelations. "All the truth" was to be revealed through them.
They Were Commanded to Write It Down
Jesus promised in John 14:16 that this "Helper" would be with us "forever." To this end, the apostles and other inspired men were commanded to write down what the Holy Spirit had taught them for future generations (Revelation 1:11; 21:5; 1 Corinthians 14:37; 2:12-13; 4:6). Accordingly, the apostle Paul later refers to the word of God as "the Sword of the Spirit" (Ephesians 6:17) and the writer of Hebrews says that it is able to discern "the thoughts and intentions of the heart" (Hebrews 4:12).
About His word, Jesus said, "Heaven and earth will pass away, but my words will not pass away" (Matthew 24:35). Men have tried to destroy it throughout the centuries, but Jesus' word remains! Almost two thousand years later, the Bible by far is the most read book in the world. Wikipedia states that "as of October 2019 the full Bible has been translated into 698 languages, the New Testament has been translated into an additional 1,548 languages and Bible portions or stories into 1,138 other languages. Thus, at least some portions of the Bible have been translated into 3,384 languages" (https://en.wikipedia.org/wiki/Bible_translations).
We Have a Choice
Some affirm that it is necessary to adhere to religious teachings received after the completion of the New Testament in order to have a fuller understanding of God's will. Others believe that God continues to speak to us individually or that each one has "his own truth." So, we have a choice: believe in others sources of "truth" or believe in the promise of the Son of God that "all truth" would be revealed through the apostles. Since it is impossible for God to lie (Hebrews 6:18), I'm sticking with what Jesus said!
–Jerry Falk