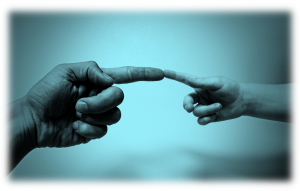 Once, upon seeing the example of their Master so devoted to prayer, the disciples asked Jesus to "teach us to pray, as John taught his disciples" (Luke 11:1). Neither John the Baptist nor any before him prayed in quite the same way as Jesus modeled for his followers in that moment, from the first word on. Jesus addressed God as "Father." Let's pause to consider what a special blessing it is to call God, "Father," and why Jesus alone makes it possible.
The One Most Capable of Revealing the Father
Jesus, being himself God's Son incarnate, was uniquely qualified to reveal Him. "No one has ever seen God; the only God, who is at the Father's side, he has made him known" (John 1:18). "He who comes from heaven is above all. He bears witness to what he has seen and heard" (John 3:31b-32a). Who but God's Son can better show him to be a Father?
More than that, Jesus has made such an intimate relationship possible, for through the justification by his blood, we who were once estranged from God may receive the adoption as children. "God sent forth his Son, born of woman, born under the law, to redeem those who were under the law, so that we might receive adoption as sons" (Galatians 4:4-5).
Prayer Motivated by a Desire to Love and Honor the Father
The apostle John gives apt wording to our celebration of sonship in Christ: "See what kind of love the Father has given to us, that we should be called children of God!" (1 John 3:1). Reflect on how this relationship and concept of God informed Jesus' practice and content in prayer. He prayed often and in solitary concentration, even in the busiest times of his ministry. In the text of Luke 11, his prayer session is set just after proclaiming that "one thing is necessary" in life (Luke 10:42), perhaps hinting that intimacy with God is that thing. Why give prayer such priority? Because he loves God with a familial love, and honors him as a Father.
Right Attitudes From the "Model Prayer"
The attitudes a child must have toward an earthly father, and therefore much more toward the heavenly Father, are also present in the words of the brief model prayer (Luke 11:2-4). Respect: "Hallowed be thy name." Submission: "Thy kingdom come." Dependence and trust: "Give us this day our daily bread." Desire to please: "Forgive us our sins." Imitation: "for we ourselves forgive everyone." Devotion: "Lead us not into temptation."
Children Can Count on the Father to Hear Them
Moreover, if we can look to God and present our petitions as children, his response will be that of a Father. Jesus expresses utmost confidence in God's answer to prayer: "Ask, and it will be given to you; seek, and you will find; knock, and it will be opened to you" (Luke 11:9). How is Jesus so certain about this? He goes on to say, "If you then, who are evil, know how to give good gifts to your children, how much more will the heavenly Father give the Holy Spirit to those who ask him" (Luke 11:13). Thus Jesus both begins and ends his exhortation on prayer with the same foundational principle: God is our heavenly Father. Thanks be to Jesus for making this true!
–Brigham Eubanks