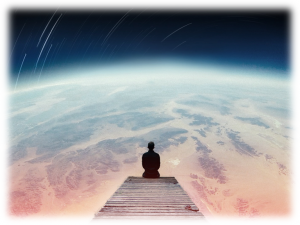 Have you ever felt as though life has no meaning? If so, you're not alone! The same thought has undoubtedly occurred to countless millions.
We all seek meaning for our lives. Some think they'll find it by providing for their family or simply by being a "good person." Others try to give meaning to their existence by accumulating material possessions and yet others by satisfying whatever their bodies desire. We eventually realize that none of these brings lasting satisfaction. What, then, is the true purpose of life?
Unfortunately, the idea that we came into existence by chance does not provide a satisfactory answer for this question. If we were not created for any specific purpose, and if we simply cease to exist after struggling so much in life, why continue fighting? Man alone is unable to find the answer to this question by means of his own reasoning. His fallible wisdom leads him to the conclusion that his existence has no permanent goal.
But God says to him, "Humble obedience to my will gives meaning to life!" "Everyone who is called by my name, [has been] created for my glory" (Isaiah 43:7). It's possible to bring honor to God by serving him, thus fulfilling our need for purpose.
Who better knows how to satisfy our desire for meaning in life than the One who has created us? Only he knows what can complete our search: obedience to his will. It's no wonder Solomon wrote, "Fear God and keep his commandments, for this is the whole duty of man" (Ecclesiastes 12:13).
The Creator of the universe has given us his word so that we might be "competent" (or complete), "equipped for every good work" (2 Timothy 3:17). When we refuse to recognize this divine purpose, we act against our own well-being. This is precisely one of the reasons for so much suffering and despair in the world! (Proverbs 13:15; Psalm 107:17; Job 15:20)
The answer to the question "why am I here?" is found in a relationship with Jesus Christ in which we follow His teachings in our daily lives. Jesus said, "Whoever drinks of the water that I will give him will never be thirsty again. The water that I will give him will become in him a spring of water welling up to eternal life" (John 4:14).
It's no wonder that the Apostle Paul wrote, "in [Christ] you have been made complete, and He is the head over all rule and authority" (Colossians 2:10, NASB).
We find true purpose in life only when we obey Christ! Only in this way will we be truly "satisfied" (Matthew 5:6).
–Jerry Falk