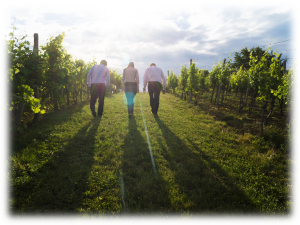 Wise advice…
Proverbs 13:20 counsels, "Whoever walks with the wise becomes wise, but the companion of fools will suffer harm." This proverb calls for making a thoughtful choice about the people with whom we spend time.
On the positive side, if we make friends with those who have an admirable character and who make good choices, we can expect to learn a thing or two from them. It will be easier to make a habit of the godly lifestyle if we are pursuing it with like-minded companions. Note how Paul also connects these two ideas: "Flee the evil desires of youth and pursue righteousness, faith, love and peace, along with those who call on the Lord out of a pure heart" (2 Timothy 2:22, NIV).
On the negative side, harm will come to us if we hang around the kind of people who only live for the present, who are selfish, and who don't seriously consider God's will in their decisions. That suffering might befall us in several forms. The individuals themselves might hurt us. We might get into trouble along with them. Worst of all, we might become like them.
Birds of a feather…
Someone has said, "You become like the five people with whom you spend the most time. Choose wisely." Only a fool thinks they can be a noble person while delighting in the company of those that laugh at wrongdoing.
This principle of being influenced by our close friends holds true also in the realm of ideas. When some Christians were being led astray by teachers that falsely maintained that Jesus had never literally risen from the dead, Paul wrote to them and included this stern warning in the midst of his rebuttal: "Do not be deceived: 'Bad company ruins good morals' " (1 Corinthians 15:33). His point is that hanging around people that believe wrong ideas doesn't bode well for the security of our own faith.
…flock together
God knew all this, and formed the church so that Christians can be closely associated with like-minded people (cf. Acts 2:46-47). Those that are most serious about their walk with God will be the same ones that make their relationships with other church members a priority.
That takes work. But while we might differ in personality, culture, background, and many other aspects of life, our common faith in Jesus must be a force of attraction strong enough to overcome those obstacles.
–Brigham Eubanks