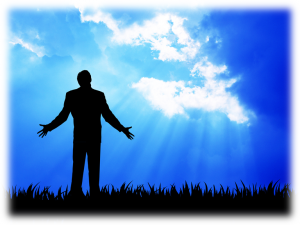 Is God near to or far from us? The answer to this question means a lot for our conception of God and our relationship with him. Even when we try to answer it biblically, we run into a conundrum, for different passages seem to say different things. For instance, the prophet Jeremiah poses God's rhetorical question, "Am I a God at hand, declares the Lord, and not a God far away?" (Jeremiah 23:23). Yet Jesus' apostle Paul boldly declares, "he is actually not far from each one of us" (Acts 17:27).
God Is Speaking in Human Terms
The harmonization is simple: God is indeed both near to and far from us. Of course, the phraseology is not to be understood literally in either case, as if the Creator of all flesh were ever limited to a given geographical location. Both passages speak accommodatively, in human terms, to emphasis a certain characteristic of God.
God Is "Far Away"
In Jeremiah's oracle, God was intent on reminding the false prophets of that day of his greatness and, therefore, his ability to judge their evil deeds. The text pictures him as having such a high and expansive perspective that no act, word, or thought escapes the scope of his awareness. The next verses read, "Can a man hide himself in secret places so that I cannot see him? declares the Lord. Do I not fill heaven and earth? declares the Lord. I have heard what the prophets have said who prophesy lies… How long shall there be lies in the heart of the prophets…?" (Jeremiah 23:24-26).
Yes, it is good to remember God's majesty, knowledge, and power, for it will engender godly fear and obedience in us. This divine aloofness and unique might was on full display in God's self-manifestation on Mount Sinai to the people of Israel. There, God "spoke to all [the] assembly at the mountain out of the midst of the fire, the cloud, and the thick darkness, with a loud voice" (Deuteronomy 5:22).
So awe-inspiring was the scene that the people felt that any prolongation of the experience might prove fatal to them! The result? They promised to hear and do the words of God (Deuteronomy 5:23-27). Such was the effect God was targeting, and he explicitly approved: "They are right in all that they have spoken. Oh that they had such a heart as this always, to fear me and to keep all my commandments, that it might go well with them and with their descendants forever!" (Deuteronomy 5:28c-29). In order to have such a heart, we need to be reminded that God is holy and "far off."
God Is "Close"
At the same time, we balance this accurate understanding of God's greatness with the fact that he is also close to each person. This was Paul's point to the Athenians in Acts 17. It is true that God is Creator, Sustainer, and Determiner of the fates of nations (Acts 17:24-26). But this same God cares to be sought and will let himself be found! He desires a relationship with "all people everywhere" (Acts 17:30), and has put such a magnificent status within each person's reach.
Paul's proclamation that God is "not far" amounts to lofty praise for our Creator's care, compassion, and love. It is essential to also remember this characteristic, lest we despair of ever coming to know him. In Galatians 4:6, Paul reveals just how intimate God allows those who are his own to be with him: "And because you are sons, God has sent the Spirit of his Son into our hearts, crying, 'Abba! Father!'" God adopts us as children, lets us call him "Abba" (which means something like "Daddy!"), and has the Spirit of his Son inhabit our hearts!
If we never new how "far off" God is – so much greater, higher, and holier than we – could we ever appreciate how wonderful it is for him to also be "near"?
–Brigham Eubanks