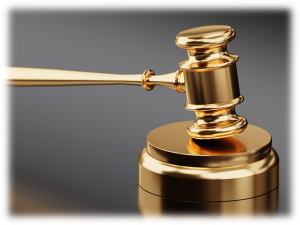 Many deny that God acts as a judge. They picture him as a benign, indulgent grandparent whose forgiveness is so automatic that it is practically impossible to make him angry. "God accepts me the way I am," they insist.
Even those who protest against correction, saying, "Only God can judge me!" must surely be banking on a very tolerant divine judgment, or else they could find no comfort in the thought.
(1) The Bible affirms that God is the ultimate Judge.
"There is only one Lawgiver and Judge, the One who is able to save and to destroy," says James 4:12 (NASB) in reference to God. Any number of verses announce this truth with equal clarity.
In fact, the doctrine of judgment was the first ever to be denied. Satan deceived Eve, encouraging her to partake of what was forbidden, with these words: "You will not surely die" (Genesis 3:4).
If nothing else, a person who conceives of God as having laid aside any enforcement of his laws has designed their own god. They have made their own religion; they lay their conviction upon their own invention; they worship an idol.
(2) God's judgment is something to rejoice in, for the wicked will not triumph.
The righteous sufferer rejoices that God will straighten the paths that evil people have made crooked. Psalm 94 records the consolation one innocent man felt in remembering his avenging God: "Who rises up for me against the wicked? Who stands up for me against evildoers? If the Lord had not been my help, my soul would soon have lived in the land of silence" (Psalm‬ ‭94:16-17‬).
Those who cherish the idea of a god who merely winks at sin have abandoned the expectation that wrongs will ever be made right. Justice is a precious hope –too precious to let go of easily. What could possibly motivate someone to want to dispense with the punishment of evildoers?
(3) Judgment is harder to accept when we realize we also have to give an account.
We recoil in trepidation when we realize that we also must appear before the judgment seat of God (2 Corinthians 5:10). It is impossible to stifle our conscience that reminds us of our wrongs. Indeed, the gospel begins with a clear understanding that each of us is guilty and exposed to the righteous condemnation of God (Romans 3:23).
What will you do with this recognition? Some choose to rework their view of God and wish away his holy wrath. Others listen long enough to discover that God's mercy matches his judgment, and then some (Psalm 103:8-12). The Lord is more than abundant in grace and forgiveness. But his pardon comes on his terms, not on ours. We dare not presume a flippant dismissal of our offenses. In his infinite love, God gave the life of his Son Jesus as a ransom for our sins, and justification can only be found in him (Acts 4:12).
–Brigham Eubanks