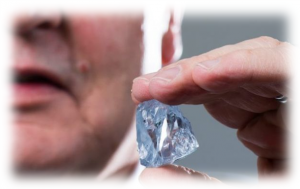 When you look at coal and diamonds, it's hard to believe that any relation exists between the two. Not only do they look very different, they also have very different properties. Except for the shiny anthracite variety, coal is normally a dull black or brownish-black sedimentary rock. In contrast, an expertly cut diamond is unmatched in brilliance and beauty.
Coal shatters easily, whereas a diamond is the hardest natural material known to man. The diamond actually gets its name from the Greek word "ADAMAS," which means "unbreakable" or "indestructible." The only thing that the two stones have in common is that both are composed of carbon. It's the arrangement of the carbon atoms that makes them so different.
High temperature, high pressure, and lots of time cause coal to undergo a marvelous change. Once ugly and lackluster, coal is transformed into something new and different. It goes from being a dark, opaque sedimentary rock to a beautiful translucent gemstone. Before this change, it had little value, but now as a diamond it has become one of the most precious materials on earth.
Spiritual Application
As spiritually dead sinners (Ephesians 2:1) and enemies of God (Romans 5:8-10), human beings have very little to boast about. Without Christ in our lives, we are dark and lackluster. If it were not for the fact that we have been made in God's spiritual image (Genesis 1:27), we would have no inherent value at all.
Perhaps with this in mind, the Psalmist asks, "What is man that you regard him, or the son of man that you think of him? Man is like a breath; his days are like a passing shadow" (Psalms 144:3-4). Job adds, "What is man, that he can be pure? Or he who is born of a woman, that he can be righteous? … man who drinks injustice like water!" (Job 15:14-16).
All Can Be Transformed
Despite our pitiful condition, we can be changed. We can undergo a marvelous, almost bewildering, transformation. This amazing change occurs when one obeys the gospel (Acts 2:38; Romans 10:16; Hebrews 5:9). It is perfected by continued faithfulness in the midst of trials and suffering for the cause of the gospel (1 Peter 1:6-7; James 1:2-4,12).
Like the apostle Paul, our true beauty may be revealed when we allow Christ to live in us (Galatians 2:20). He can turn coal into a diamond!
–Jerry Falk