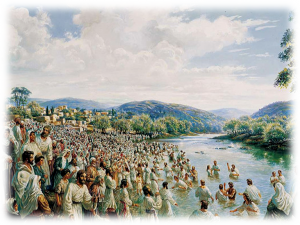 Acts 12:24 says that "the word of God increased and multiplied." The word of God "multiplies" when men obey it and are added by the Lord to the number of those saved (Acts 2:38,41,47).
Said another way, it multiplies when people:
(1) hear the pure gospel of Jesus Christ without man-made traditions and philosophies (Romans 10:17; Matthew 15:1-9; Colossians 2:8).
(2) believe in Jesus as the Son of God (John 3:16; 8:24; 11:25; Mark 16:16),
(3) repent (Acts 2:38; 17:30),
(4) confess faith in Jesus (Acts 8:36-37; Romans 10:9-10) and,
(5) are baptized in water for the forgiveness of sins (Mark 16:16; Acts 2:38; 22:16; Romans 6:4-7; 1 Peter 3:21).
The word of God does not multiply when we try to win souls with other things (for example, food, money, entertainment, sports activities, prizes for those who attend worship, etc.).  God "brings" people by means of the teaching of his word, no more, no less (John 6:44-45) .
When we try to attract people with tea, ice cream, and chicken, they will be as weak as tea, as cold as ice cream, and as dead as chicken.
The only bait we must put on the hook when we evangelize our lost neighbor is the word of God (Luke 8:11).  Only with it will God be able to rescue souls from the power of darkness and transfer them to the kingdom of his beloved Son (Colossians 1:13).
May we always put our trust in the word of God and not in publicity gimmicks, which only serve to cheapen the precious message of our Savior.
–Jerry Falk