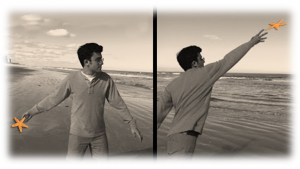 An Illustration
The story is told of a man who went for a stroll on the beach to see the damage that a violent storm had caused the night before. As he walked, he was astonished to find thousands of starfish that had been deposited on the sand by the force of the waves. When the sun appeared from behind the clouds, the starfish began to dry up and die.
He then saw something else that caught his attention. A young man who had also noticed the fate of the starfish was picking them up, one by one, and throwing them back into the ocean.
"Why are you doing that?" the man asked when he drew near. "One person will not be able to make a difference among so many starfish. You'll never get all of them back in the water. They're just too many."
"You're right," sighed the young man as he squatted and picked up another starfish to throw it into the water. Then, seeing it sink, he looked at the man, smiled, and exclaimed, "It made a difference for that one!"
Take Advantage of the Opportunities That God Gives You
We will never be able to help everyone in the world to obey the gospel and be saved (Mark 16:16, Acts 2:38). It's not even possible to reach everyone in our country, much less the whole world! But we can help those with whom we have contact (our relatives, neighbors, co-workers, etc.). God can work through us to make a difference in their lives!
Likewise, the apostle Paul teaches that we are responsible before God not according to what we do not have, but according to what we have (2 Corinthians 8:12). Let's take advantage of the opportunities that God gives us to throw the "starfish" with whom we have contact into the living water that wells up to eternal life (John 4:14).
If you are a "starfish" who needs the living water that Jesus offers, do not hesitate to contact us. We also want you to be saved!
–Jerry Falk (adapted)