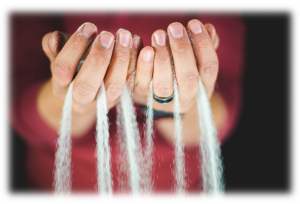 The World's Most Common Excuse
One evening in a town a few miles south of Barcelona, Spain, a fellow Christian asked me if I could accompany him to invite a woman to a Bible study. Apparently, he had spoken with her earlier in the small store where she worked. As the brother and I approached the shop, we could see her through the large windows, sitting idly behind the counter. She was not waiting on customers or talking on the phone. However, as soon as we came through the door, she immediately stood up, grabbed a cloth, and started frantically dusting the shelves behind her. We could imagine what her response would be before she opened her mouth. "I don't have time," she said.
Throughout the years, I've heard other excuses, but none of them stand out in my mind as much as the one that I heard one day in Seville. As a brother and I began to speak to a woman about having a Bible study with us, she responded, "I don't even have time to scratch myself." It would be funny if it weren't so sad.
People Make Time for Whatever Is Important to Them
In the midst of countless excuses, one undeniable fact remains: people make time for what is important to them. Somehow, they always manage to find time for television, sports, vacations, reading, Facebook, YouTube, WhatsApp, Instagram, Twitter, Snapchat, and the list goes on.
Jesus made time for what was most important to him: US (John 15:13)! He took thirty-three years out of his busy schedule to be born as a man, assume the role of a servant, and be obedient to God to the point of crucifixion (Philippians 2:6-8; Hebrews 12:2). He gave us his very best. What do we give him?
Misuse of Time Affects All
Many of those who have never read the Bible are so busy that they don't have time to carefully examine its claims (John 5:39; Acts 17:11). In contrast, the Scriptures teach that we must "mak[e] the best use of the time" and "understand what the will of the Lord is" (Ephesians 5:16-17). Time must be used wisely (Ephesians 5:15; Colossians 4:5-6), because once it's gone, it's gone forever!
This misuse of time does not affect only those in the world. Members of the Lord's church also squander it when they don't take time to read God's word, pray (1 Thessalonians 5:17), or meet faithfully with fellow Christians (Hebrews 10:23-25). If we're so busy that we can't devote ourselves to these spiritual endeavors, then we're too busy! Before we know it, the years we spend on earth slip out of our hands and there is no more time!
A "Favorable Time"
God has given all of us, both Christians and unbelievers, a "favorable time" in which we should seek him and the salvation that he offers us in Christ.
The time is NOW (2 Corinthians 6:2).
–Jerry Falk