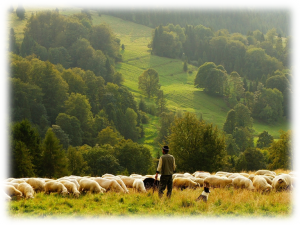 About ten years ago, someone on Facebook referred to me as "Pastor Jerry." He has continued to do this throughout the years, even though I've mentioned to him more than once that he can just call me "Jerry."
It's common in the religious world for people to use ecclesiastical titles of exaltation to refer to individuals in charge of leading others (Matthew 23:8-12). However, all those who follow Christ must regard themselves as simply "brothers" (Matthew 23:8). No servant in the Lord's church is greater than another.
Biblical Uses of Pastor/Bishop/Elder
The New Testament employs the terms pastor, bishop, and elder interchangeably (Acts 20:17,28; Titus 1:5,7). They are three different descriptions that refer to the same person, just as one might be a husband, father, and son. The fact that one is a "husband" indicates that he is married, "father" means that he has at least one child, and "son" shows that he has parents. Likewise, the word "pastor" (or shepherd) refers to the function of feeding the flock, "bishop" indicates his responsibility to "oversee" those under his care, and "elder" suggests that he is a man of age and experience.
The requirements for those who desire the office of bishop/elder/pastor are found in 1 Timothy 3:1-7 and Titus 1:5-9. The inspired writer Paul stipulates that the pastor/bishop/elder must also have "children who believe" (Titus 1:6). Since my children, ages eleven and twelve at the time of this writing, had still not made the decision to give their lives to Christ, I was not qualified to be a pastor. Moreover, I still would have had to fulfill the other requirements given in 1 Timothy 3 and Titus 1 and I wondered if I might be regarded as an "elder" (i.e., a man of age and experience) at that stage in my life.
Bishops and Celibacy
In some churches bishops are required to be celibate. This practice contradicts the teaching of Paul when he says that the bishop "must be one who manages his own household well, keeping his children under control with all dignity" (1 Timothy 3:4, NASB). Paul also adds, "if a man does not know how to manage his own household, how will he take care of the church of God?" (1 Timothy 3:5, NASB). A man must first prove himself to be a good husband and father before he can be a pastor/bishop/elder. The greatest demonstration of his ability to be a spiritual leader of the church is to first demonstrate that he has been able to lead his own family to Christ.
Always a Plurality of Elders/Bishops/Pastors in Each Local Church
Another interesting fact that we see in the New Testament is that there is always a plurality of elders/bishops/pastors in the local church. In Acts 14:23, we see how Paul and Barnabas "appointed elders" in each of the congregations in Lystra, Iconium and Antioch.
In Acts 20:17, we see that Paul sent to Ephesus and called the "elders" of the church to come to him. Later in the text he refers to them as "overseers" (bishops) to "shepherd" (pastor) the church of God (Acts 20:28). There was a plurality of pastors in the church in Ephesus. This is also evident with respect the church in Philippi (Philippians 1:1). We never read in the New Testament about "The Pastor" (singular) or "The Bishop" (singular) of the church, except in reference to Jesus Christ (1 Peter 2:25). As God Omniscient and Omnipresent (John 1:1), only he is qualified to shepherd or oversee all of the churches.
The fact that one is a preacher or evangelist does not automatically mean that he is a pastor/bishop/elder. If he is qualified for such an office, he cannot serve alone, but rather with other men who are equally qualified. This is one of God's defenses against apostasy. If one bishop strays from the word of God, the others can correct him.
Though both of my children are Christians now and I am fifty-six years old, I still would have to fulfill the other requirements to be a pastor/bishop/elder and at least one other man of the local congregation of which I am a member would have to serve with me. For this reason, I could never be "The Pastor" of any church.
Limits of the Bishop's Oversight
Lastly, the supervision of a bishop/pastor/elder must not extend beyond the local congregation of which he is a member. Peter, who also was a pastor, instructed his fellow elders/bishops to "shepherd the flock of God that is among you" (1 Peter 5:2). It is physically impossible for a bishop to oversee more than one local church, just as a shepherd cannot watch over multiple flocks of sheep in different locations… unless that Bishop is Jesus!
–Jerry Falk