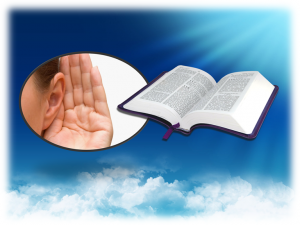 Once, as Jesus showered words of wisdom and grace upon a Judean crowd, a woman lifted up her voice and called out, "Blessed is the womb that bore you, and the breasts at which you nursed!" (Luke 11:27) Her bold proclamation clearly sprang from a conviction of Jesus' specialness, and she recognized the gladness and honor that Jesus brought to his mother by his life, his work, and his status.
The Lord's Unexpected Answer
We might be surprised, then (and especially those that over-exalt Mary, the mother of Jesus), that the Lord's response comes in the form of a gentle rebuke. "Blessed rather are those who hear the word of God and keep it!" (Luke 11:28) His correction amounts to amazingly good news for all the world: true blessedness is available to anyone! No relationship, ancestry, position, or anything the like conveys such a special advantage. You can be as blessed as the mother of Jesus!
Heaven-Sent Blessedness
Blessedness is happiness, but far deeper than temporary feelings engendered by pleasant circumstances. It is an unshakable joy and peace, a well of fulfillment that can be accessed even in troubled times. Though it is the longing of every heart, the world is rife with all sorts of false avenues to achieve it. Jesus' present declaration is a promise — a promise that if one dedicates himself to two conditions, he can experience this heaven-sent blessedness.
The Conditionality of Blessedness
What are the two conditions? Hearing and doing the word of God. We should be thankful that these steps are so simple and straightforward. That doesn't mean, however, that they will require anything less than our utmost effort.
We often fail on the first one as we miss opportunity after opportunity to read the Bible and to listen to its message spoken to us. Other things constantly distract us from hearing the book that God revealed, and even when we do take time to open our ears, we perhaps don't involve our heart in meditating on the words. So many that claim to be disciples of Christ actually have little idea of what his will for them is, simply because they don't open his word and read what is readily accessible.
Doing what we hear is a further challenge. We often feel that we have God's favor by simply hearing, or professing faith, or appearing before men to be righteous, or associating ourselves with righteous people, or obeying for a time, or obeying in some or even most commands. These are mere substitutes for obedience. They all fall short of doing the word of God, and the man who becomes complacent in them will not reach blessedness.
Child-Like Submission
Obedience is not complicated, but also will not come without courageous commitment. My three-year-old daughter is perceptive enough to identify the basic conflict inherent in the choice to obey or disobey. Often when I issue a command, she voices her inner dilemma: "But I want…" She is presented with two paths: will she give priority to her own desire, or to her father's order?
The path to blessedness requires subjugating our will to God's word. There is no shortcut. Many will claim to know another way, but Jesus warns you not to be fooled by these dead ends.
Do you believe Jesus' promise of blessedness? Devote yourself to hearing and doing the word of God.
–Brigham Eubanks