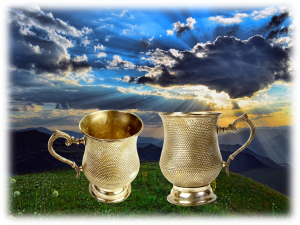 When we speak about our usefulness in the kingdom of God we need to be humble and not think of ourselves more highly than we ought to think (Romans 12:3). Even when we obey God to the best of our ability, we must remember that we are only doing what we must do (Luke 17:7-10).
We can't boast as if God couldn't do his work without us. In an absolute sense (that is, without limitations) we must confess that we are useless because all of us have sinned and without Christ we fall short of the glory of God (Romans 3:23).
However, in a relative sense (that is, with limitations) we can be useful as servants of God. Several days ago, we saw that we have been created for God's glory (Isaiah 43:7) and that this occurs when we eliminate all sinful habits from our lives (2 Timothy 2:19) and allow God's word to work through us. God wants us to be useful in His service!
For this reason, the Father "sanctifies" us. Sanctification is a work that God performs in his servants by means of his word (John 17:17). The fundamental idea seems to be to separate an object of ordinary use for a special purpose or use. Sanctification is a separation from the world for a holy use in God's service (1 Thessalonians 4:3).
The true Christian is not a mere ornamental vessel gathering dust in a cabinet but a receptacle of the word that fulfills the purpose for which it was created (Ephesians 2:10). By being set apart by God for a holy use, we become "a people for his own possession who are zealous for good works" (Titus 2:14). The people of God are different from any other people because they have been purified by the redeeming death of Christ and because they have a different behavior from others in the world.
Are you fulfilling the purpose for which you were created?